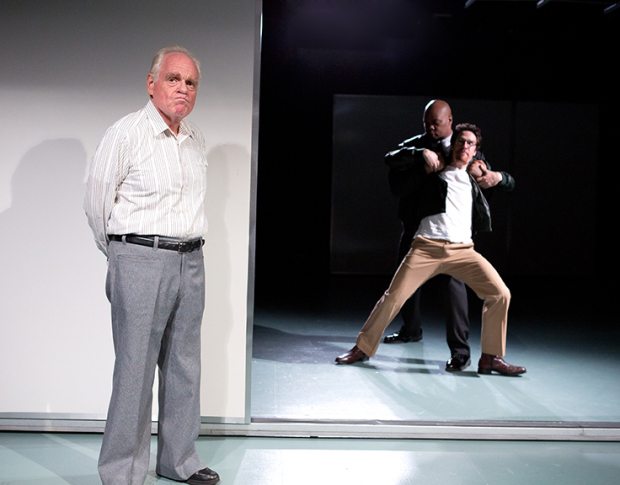 Whether you're vaguely familiar with or deeply knowledgeable about Jonathan Jay Pollard, the Israeli spy made infamous in the 1980s, Martin Blank's The Law of Return is a powerfully emotional portrayal of Pollard's story. The story revolves around Pollard (Ben Mehl), his boss, Commander Steve Harris (Andre Ware), and Pollard's connection to the Israeli Embassy, Rafi Eitan (Joel Rooks).
Pollard is a complex hero. He's brilliant, passionate, playful and conflicted about his identity. Desperately desiring to protect both American and Israeli lives as an intelligence analyst for an anti-terrorist branch of the US government, he is dedicated to the safety for both of his people -- which ultimately leads to his demise. Mehl's performance is alive, capturing the agony and euphoria he feels for both countries. Ware transitions seamlessly from hard ass boss to endearing confidant, and ultimately to terrifying commander. Rooks charms the audience as a genial old man, clad in cardigans and waggling his bushy eyebrows. But he is clever and cold hearted, forced to make difficult decisions for his country.
Even if you know the outcome of Pollard's story before entering the theater, The Law of Return will still surprise you with, for example, the intimacy between Pollard and his girlfriend, Anne, or the tension Pollard feels while living a double life. The play takes place throughout the 80s and does not disappoint historically or nostalgically. There are plenty of giant glasses, plaid sports jackets, and random bursts of "Domo arigato Mr. Robato," between scenes.
The Law of Return does sprinkle in some Hebrew, which is not translated, so either bring a friend who speaks the language or ask someone at intermission.  Or just use those handy context clues because Blank's dialogue is extremely sharp and engaging. Elise Thoron's direction is phenomenal, proving it is no surprise the show has been in Maryland, Jerusalem and now in New York.
The show continues until August 24th at the 4th Street Theater.