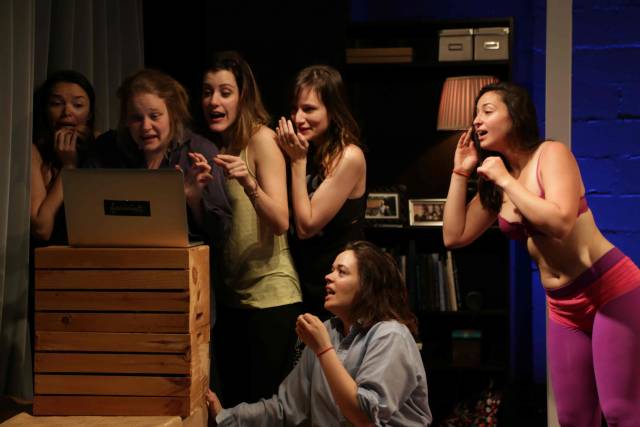 Six women endeavor to make feminist pornography in #liberated, a refreshing, enjoyable, often dark comedy by theatre collective The Living Room. The play, conceived and scripted by Lillian Meredith and co-directed by Rachel Karp and Jaki Bradley, becomes more than a play about porn or even feminism; it becomes a commentary on cyberbullying.
A group of 20-something Brooklyn women calling themselves the Sister Support Group for the Daily Trials of Being a Woman (Tamara Del Rosso, Zoe Sophia Garcia, Lillian Meredith, Gabby Sherba, Taylor Shurte, and Madison Welterlen) meets every week to dance Zumba ("to dance out the rage!"), eat takeout, drink wine, and talk about feminist issues. Topics include the dangers of billboards on the street featuring emaciated women, bad Tinder dates, and what types of porn they all watch. This topic in particular elicits much debate about the differences between the styles of porn these women enjoy and those that men consume, and how the male-driven porn industry is antithetical to feminism. An idea sparks: What if we made our own porn just for ourselves? Feminist porn!
Being an open-minded group, it doesn't take much cajoling to get everyone on board and they soon have a brainstorming session with each woman creating a scene around what turns her on. The scenes are often collaborative, taking each person's individual experience and incorporating the camaraderie of the others. The joys contained in these film shoots are too many to spoil here. Suffice it to say that each scene is unique and utterly bizarre in its own glorious way. There isn't much in the way of actual sex and no nudity shown at all for those who might be squeamish at this point. It is just pure fun and out-there fantasy.
When the videos get posted online (not the original intent but the result of wanting to empower women on a broader scale), they go viral. There is a lot of support and notoriety -- invitations to speak on TV and radio, copycat groups forming all over North America, getting asked out by secret crushes. But then there are the Internet trolls whose hostile comments both embitter and embolden the group. Rather than let the trolls bully them, the women post new videos in response to some of the negative comments that are even more hilarious and ground-breaking than the originals.
The consequences of the group's guerilla-style takedown of the porn industry becomes quite serious when they start to experience breakups, job losses, even death threats. When the comments turn from merely hateful to actually life-ruining there is no turning back from what's been done. The indelibility of the Internet marks each member of the group and the only question becomes, what lengths will they go to in order to right the wrongs done to them?