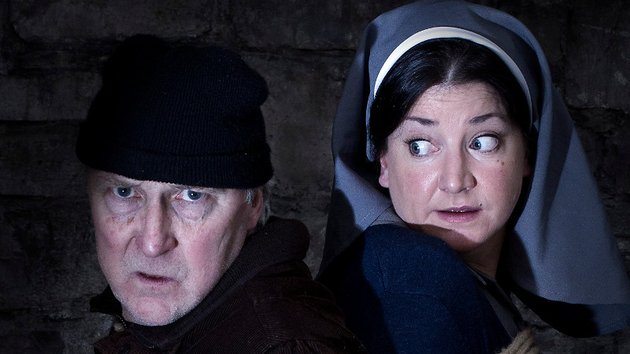 At Lazarus House in County Mayo, the path of Dublin ex-con Larry (Donal O'Kelly), on one last job to steal a statue of the Virgin Mary, crosses with Sister Martha (Sorcha Fox), a Scottish nun. A roll of film, brought with her from Nigeria on a clandestine mission to expose Scarab Oil's corrupt business dealings, leads to Larry and Martha racing against the clock on unreliable wheels to get to Dublin. To add to the discomfort of their journey, dangerous criminals are on their tail while Larry's rear end hurts like Hell, thanks to an accident with his shattered cell phone.
Origin Theatre Company's 1st Irish Festival has returned for its eighth consecutive year. By the end of its five week run, 122 Irish playwrights will have been presented to New York audiences. Jim Culleton, Artistic Director of Ireland's Fishamble: The New Play Company, keeps a proficiently tight director's grip on this fast-moving play, Little Thing, Big Thing, written by and starring Donal O'Kelly and co-starring Sorcha Fox.
A small time crook plus a nun on the run may be indigenous to popular storytelling, but Fox and O'Kelly's outstanding performances succeed in filling out the framework of both the main and minor roles with depth, pathos and believability. Part crime caper, part road play, Little Thing, Big Thing takes us on a wildly imaginative tour from the beautifully rugged County Mayo to the River Liffey and scene-setting landmarks of Dublin. In other parts, playwright O'Kelly's language is rich and colorful enough to rival sentences lifted from the pages of Flann O'Brien or James Joyce. The dialogue between Larry and Sister Martha, as well as the additional cast of characters that the two actors play, hops easily from snappy, street savvy Dublin vernacular to lyrical prose. Actions spoken as internal thoughts add to the intrigue. Larry ticks all the boxes for the affable rogue while swear word shunning Sister Martha keeps this double-act afloat with her conflicting prudence.
In Lazarus House and the more sinister scenes, John Comiskey's use of light and looming shadows, towering above Larry and Sister Martha, are further accentuated by the rumble of Carl Kennedy's tension-building sound effects. Elsewhere, Larry's two renditions of "Wand'rin' Star" produce different emotional responses, while the sight of a leaping salmon provides a metaphor for turning a little thing into a big thing, as in the right yet risky thing to do. Little Thing, Big Thing has hit the 59E59 Theaters stage running; a must-see.