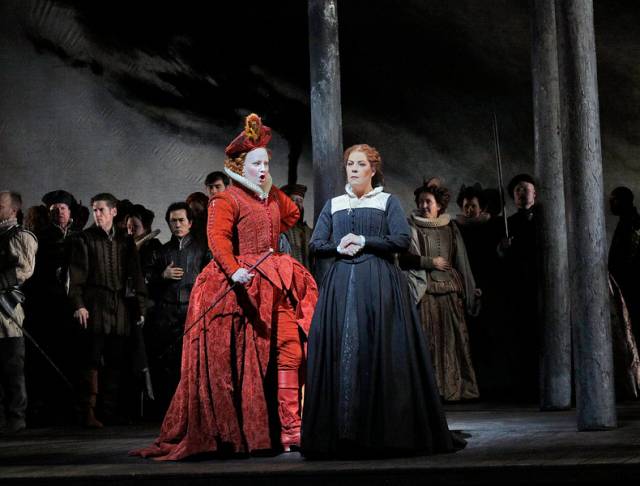 Two queens, two religions, one throne, and one man equals constant conflict, and the Metropolitan Opera's spellbinding production of Gaetano Donizetti's Maria Stuarda does not disappoint!  From the opening roll of the timpani to the frenzied violins accompanying the final ascent to the executioner's block, Maria Stuarda keeps us in its grip, never letting go.  A prolific composer and one of the three great bel canto composers of 19th-century Italian opera, Donizetti shared the ongoing European fascination with Tudor England.  Basing his opera on German dramatist Friedrich Schiller's play Mary Stuart, with its sizzling fictional scene of a meeting between Queen Elizabeth I and Mary, Queen of Scots, Donizetti had brilliant source material for not one, but two dramatic soprano coloratura roles.
Stunningly directed by Sir David McVicar and conducted with exquisite musicianship by Riccardo Frizza, this production of Maria Stuarda is a perfect marriage of theatricality and emotional truth.  Using an intensely raked stage throughout the opera, set and costume designer John Macfarlane works in a palette of white, black and gray, reserving red for both queens and a duo of devil-horned Harlequin acrobats in the joyous opening scene at Whitehall Palace, where Elizabeth I is contemplating an alliance through marriage with France.  Troubles of the heart and the country rumble underneath, both of which can be traced to the Catholic Mary Stuart, Queen of Scots, who is viewed by Protestants as a threat and by England's Catholics as the rightful heir to the throne; Elizabeth is seen as illegitimate, her father Henry VIII having married Anne Boleyn without obtaining an annulment from the Pope for his first marriage to Catherine of Aragon.  To further fan the flames, Robert Dudley, Earl of Leicester, the Virgin Queen's love interest and favorite, now worships Mary and is devoted to winning her freedom; she's been imprisoned for years by Elizabeth for suspected treason against the throne.  Being Italian and Catholic, Donizetti's perspective is distinct; Mary is a martyr at the hands of heretic Elizabeth, and although both characters are three-dimensional, our empathy lies with Mary.  These two troubles spin a taut musical story to its devastating end with some of the most ravishing music ever written.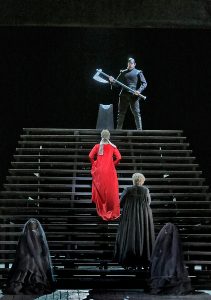 Of course a great story needs great singers for Donizetti's extremely difficult score, and again the Met's production does not disappoint!  South African soprano Elza van den Heever brings power and a bold interpretation to Queen Elizabeth.  Rooted in character, her singing displays a superb range; she weaves vulnerability into a portrait of a formidable ruler who's insecure about herself as a woman.  Moving about the stage with a limp and giving a sense that Elizabeth is uncomfortable in her lavish gowns, Ms. van den Heever's intricate performance embodies both pathos and power.  In the role of Mary Stuart, the glorious American soprano Sondra Radvanovsky combines astonishing technical ability, beautiful singing and a deep commitment to character.  Virtuosic passages are always emotionally justified.  In the forest near Fotheringhay Castle, where she is imprisoned, Mary's first aria, supported by harp arpeggios, reveals her longing for the freedom she felt in France; Ms. Radvanovsky's suspended high notes and florid runs are filled with emotional fragility.  The spectacular showdown between the queens that ends Act I contains a dramatic sextet with chorus and leaves the audience breathless.  As Elizabeth launches accusation after accusation at Mary, Ms. van den Heever, bedecked in a fire-red farthingale cut away to reveal red riding breeches underneath, is relentless as she strides across the stage in her attempts at humiliation. Mary, who has been urged to be repentant and obedient by Leicester, sung with honesty by the appealing tenor Celso Albelo, can contain herself no longer.  Ms. Radvanovsky, growling with venom, spits out the word "vil bastarda" ("vile bastard") and this outburst seals her death warrant.
Act II belongs to Ms. Radvanovsky.  Her heartbreaking confessional duet in Act II with her confidant Talbot, sung with touching simplicity by the magnificent bass Kwangchul Youn, brought the audience to tears.  In the final scene, with the scaffold in the background, Ms. Radvanovsky's portrayal of Mary breaks our hearts again and again as she floats endless high notes over the chorus as they plead for God's mercy ("Ah! may thou hear the sound of our humble prayer"), begging God for Elizabeth's pardon and sparing heretical England from condemnation.  After removing her black dress to reveal a red gown, Ms. Radvanovsky's voice soars to the heavens with ascending chromatics that signal surrender before climbing the stairs to her death.
This season Ms. Radvanovsky is making Met history by singing title roles in three of Donizetti's Tudor Queen operas: Anna Bolena, Maria Stuarda and the upcoming Roberto Devereux, where she will play Elizabeth I.  Anna Bolena has closed, but you still have a chance to see Ms. Radvanovsky's riveting performances as Mary, Queen of Scots and then as Elizabeth I.  Don't miss it!
Performances of Maria Stuarda continue through February 20. For more information and tickets visit: https://www.metopera.org/