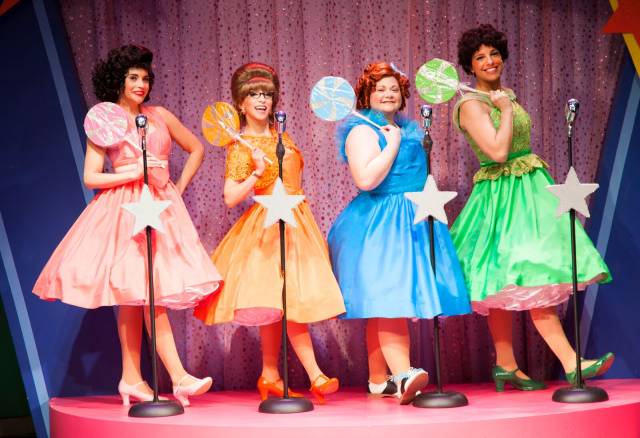 Dust off those poodle skirts and grab your favorite guy or girl because the Marvelous Wonderettes are performing at the senior prom!
This dynamic girl group bursts onto the stage in all of their effervescent and adorable glory! Starring four very talented and captivating ladies -- American Idol alum, Diana DeGarmo as Suzy; Christina Bianco as Missy; Jenna Leigh Green as Cindy Lou; and Sally Schwab as Betty Jean -- this new musical treats audiences to an evening of favorites from the '50s and '60s. Featuring a vast catalog that included hits such as "Dream Lover," "It's My Party," "Rescue Me," and many others, the Marvelous Wonderettes show off their sweet voices and the meaning of girl power displayed in trials of life, love, and friendship. Though engaging in some friendly competition and petty arguments over boys and popularity, which provided many a comical moment, these ladies are able to find their groove and prove that no obstacle can break their spirits.
Each character personifies a different personality trait with Ms. DeGarmo winning at cuteness and charm, Ms. Green bringing the sass and style, Ms. Bianco lending her insight and wit, and Ms. Schwab offering her honesty and vulnerability. Additionally, this gifted cast digs a little deeper when it comes to embodying these classic sock-hop tunes and really drill into the emotion. Their voices are mighty yet soulful and make a strong connection to the material covered in these songs dealing with the universal themes of searching for love, the pain of dealing with an untrue partner, and finding one's own strength.
It is so pleasing to see audience members of all ages enjoying the performances and singing along to this sort of doo-wop music. There's just something about music from this era that brings hope and magic back into our hearts no matter how entrenched we've become in this technological age. So no need to pout if you have no idea where your Johnny has gone, take comfort in the fact that the Marvelous Wonderettes will keep you dancing all night!