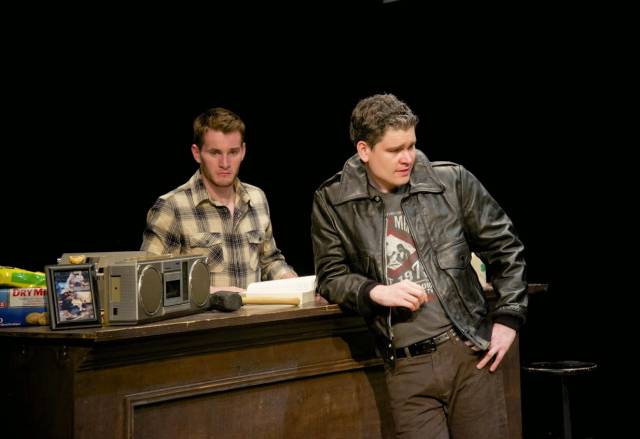 The McGowan Trilogy, playing now through October 5th at The Cell, invites you into an Irish mindset the moment you arrive. Expertly molded from narrow space to intimate theater, the venue's bar is stocked with beer and Jameson. Upon sitting, an usher directs you to the program's back page glossary of Irish terms you ought to know. Pogo: Vertical dance movement developed during the punk era of the 70s. Approximates to jumping on the spot with the arms and hands hanging at the dancer's side. The aim is to jump as high as possible to the beat of the music. At the highest point of the jump the dancer executes a head motion like heading a soccer ball.
Written by Seamus Scanlon and directed by Kira Simring, The McGowan Trilogy is composed of three acts, each presented independently before becoming a trilogy. Victor M. McGowan, the callously charming title character, is brought to life by actor Paul Nugent. Employed by the Irish Republican Army during the political strife of 1984, McGowan is abrasive upon introduction. Demanding tea, touting a gun, and performing the pogo any chance he gets, he is appalling. As the play goes on, however, McGowan's abrasiveness softens. Moments of tenderness glow with honesty as Nugent navigates through conflicts of compassion versus violent nationalism. Each scene sheds light on his past, incites hope for what happens next, and begs reconsideration of what happened earlier.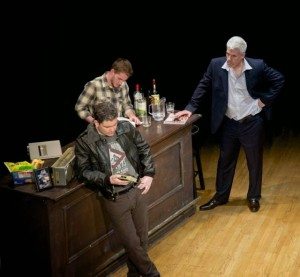 The second act in the series, The Long Wet Grass, stood out as an especially poignant scene. Anna Nugent brings a lilting poetic quality to her role, ripe with longing and playfulness. She tugs at McGowan's stubbornness as the pair dances around desire, politics, and obligation. And yes, in real life Anna and Paul Nugent are a married couple. Cindy Boyle, who is featured in the last act, should also be noted for her whimsically heartbreaking depiction of McGowan's senile mother.
The McGowan Trilogy is skillfully written and artfully acted -- a meaningful glimpse into Irish history through a detailed portrait of one man's experience. It may not provide the Hollywood ending you hope for, but it will have you thinking, laughing, and wishing.
The McGowan Trilogy continues its run at The Cell through October 5. More more information and tickets, visit https://www.thecelltheatre.org/