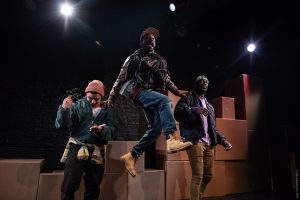 The question of graffiti's status as expression or vandalism has served as a point of contention for decades of urban history. While modern New Yorkers may regularly encounter such works without a second thought, closer inspection of graffiti's contested status reveals the broader racial, legal, and economic factors in which the debate takes root. Based on true events, Blessed Unrest's production of This Is Modern Art highlights these topics through the story of three Chicago street artists and the risks they took to make one career-altering public statement.
Set in early 2010, This Is Modern Art follows young graffiti writers Seven (Shakur Tolliver), JC (Andrew Gonzalez), and Dose (Landon G. Woodson), collectively known as the L.O.H (Look Over Here) Crew. Fueled by adrenaline and creative passion, the three strive to make as prominent a mark on Chicago's art scene as on its buildings, yet constantly struggle with with the ephemerality, underrepresentation, and precarious nature of their work. At a party one evening, a privileged student's praise of the Art Institute of Chicago's new Modern Wing -- and dismissal of graffiti as an art form -- inspires Seven to make a social and artistic statement by devising an elaborate piece for the museum's 50-foot exterior wall. The prominent location and tight security only heighten the Crew's enthusiasm for this feat, and, with help from Seven's girlfriend Selena (Nancy McArthur) they craft an execution plan worthy of any heist movie. However, when the thrill of their success turns to public backlash and legal ramification, Seven, JC, and Dose must face the aftermath of their endeavor and its effects on their own creative and personal lives.
Idris Goodwin's sympathetic characterization, paired with the cast's chemistry and earnest performances, offers an alternate view of a practice too easily classified as petty crime. The characters frequently break the fourth wall to educate us on the history of graffiti, or to speak of their own connections to the practice. While this can sometimes read as didactic or incongruous, for an audience largely unschooled in the art form these segues illuminate a misunderstood genre, revealing a canon and virtuosity on par with any reputed art history movement.
The leads' personal insights inspire similar fascination: from JC's use of graffiti as a connection to his Latinx heritage, to Dose's struggle between integrity and the temptation of paid "commission walls," to Seven's charm and artistic fervor, we find ourselves unexpectedly captivated by these characters and invested in their success. As such, when the consequences of their plan lead them down difficult and often questionable paths, we also empathize with their struggles and witness the larger implications they conceal. Contemporary audiences may recognize all too well JC's meticulous law-evasion-as-survival-tactic, or the fugitive Seven's awareness of the punishment he, as an inner-city black man, would incur versus that which his white girlfriend would receive.
The creation of the Art Institute piece itself is striking in its simplicity: in a tightly-choreographed sequence, the cast assembles a puzzle-like wall of cardboard boxes, each decorated with work by real-life Brooklyn street artist KEO XMEN. Not unlike graffiti itself, this creation transforms the space with raw materials, and its gradual dissembling mirrors the trio's own breakdown. Lighting designer Miriam Nilofa Crowe's disco-ball "snowstorms" and hazy washes paint a similar portrait of an art form concealed, somewhat necessarily, under covers of night, circumstance, and subculture.
Though This Is Modern Art only gives a brief rendering of the events it depicts, it encourages inquiry into the more pressing issues they encompass. Faced with an ever-widening socioeconomic gap, institutionalized bias, and the continued squelching of marginalized voices, Blessed Unrest's production forms an effective microcosm of current social concerns and calls us to challenge both the gatekeepers and the systems which necessitate their existence. Given proper scrutiny, overlooked scrawls can reveal deeper truths.