Review: Mr. Landing Takes A Fall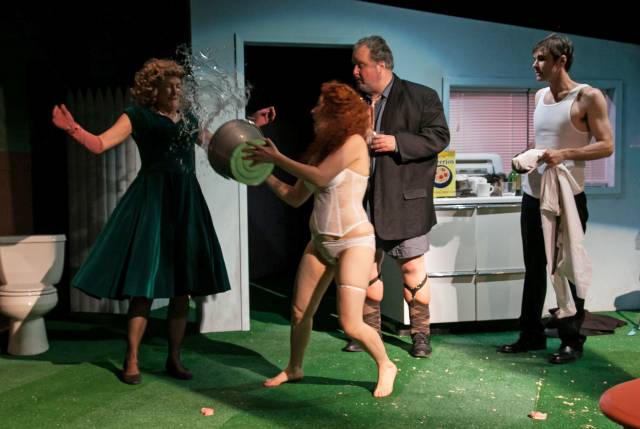 Mr. Landing Takes A Fall, now playing at The Flea Theater, was written, according to the playwright Sari Caine, as a reaction to misunderstanding another play, Harold Pinter's The Room. It's quite clear that Mr. Landing was written while feelings of shock and confusion coursed through the creator as it is strange, oddly charming, and mind-bendingly absurd.
The play opens in a darling little home. There's a white picket fence outside, a 50's refrigerator and a hefty drink cart off to the side. Mrs. Landing (Kathryn Rossetter), is dusting in a velvet dress and white opera gloves. Mr. Landing (Adam Lefevre) is reading the newspaper in a dress shirt, suit jacket, tie and no pants. Mrs. Landing quickly proves herself to be eccentric and whimsical, as she describes to the gruff Mr. Landing the birds she has seen - to which he points out that she is not looking out a window. Their banter is hilarious nonsense, they forget words and invent facts - almost as if someone had married the Mad Hatter and the March Hare.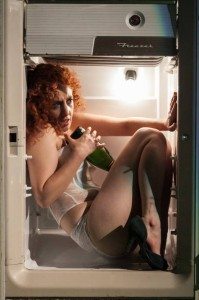 Soon we are introduced to Cynthia (Sari Caine) and Michael (David Rigo), a newlywed couple, still in their wedding attire, there to inspect the home that Mrs. Landing has randomly put up for sale earlier that day. The affable Cynthia and Michael try to keep their sanity as Mr. and Mrs. Landing act like a delusional soap opera cast. Michael becomes the stern voice of reason while Cynthia tries to politely indulge their whimsy.
As Cynthia and Michael spend more and more time in this madhouse, we learn that they are not without their own secrets, lies and unique insanity. A storm rages on outside while inside, facades are cracking. The play left me with many theories. Are Michael and Cynthia delusions of the older couple? Is the whole story a drunken hallucination of the alcoholic Mr. Landing? A mental breakdown of the desperately unhappy Mrs. Landing? What is it about this house that turns all sane visitors' minds into cuckoo birds? We may never know.
Despite their battiness, the characters are vibrant, complex and always fun to watch.  Sherri Eden Barber's direction lends the play the freewheeling feel of Lewis Carroll mixed with the creepiness of The Twilight Zone. Many have compared Mr. Landing to a deconstructed Who's Afraid of Virginia Woolf?, which Caine admits may have subconsciously influenced the story. Either way, the show will keep you guessing to the very end.
Mr. Landing Takes a Fall is playing at The Flea Theater (41 White Street) until October 4th. For more information and tickets, click here.