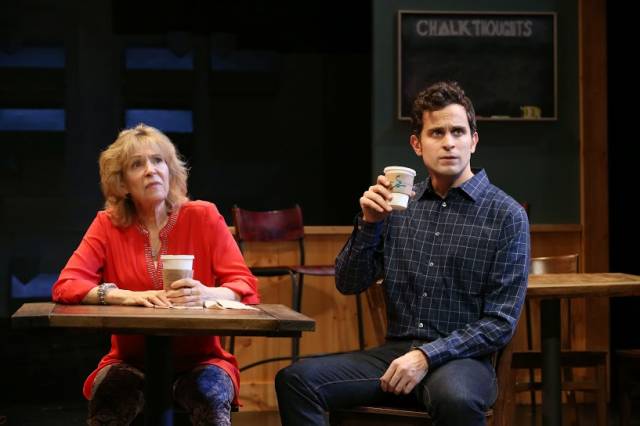 Illness, death, divorce, missed opportunities, crushing defeats. What does it take to survive life's crueler blows? Each of the five characters in Mat Smart's play Naperville, having its world premiere at the June Havoc Theater, has been broadsided by a serious loss. Between the hours of 5 am and 10pm, fueled by caffeine at the Caribou Coffee house in Naperville, Illinois, Candice, a recently blinded mother; Howard, her son; Anne, an old high school crush; Roy, a friend who follows Jesus; and C.T., a new barista, reveal with humor and heartbreak their humanity.
Mr. Smart is a talented storyteller; he creates unique characters and has an ear for the quick twists and turns of comedy. The first hour of the play zips by and keeps the audience laughing, though the second half does lag in places and would benefit from some pruning and a more streamlined climax.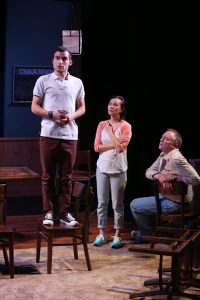 Director Adam Knight, on a set designed by Meredith Ries that perfectly creates the generic Starbucks environment, shapes the scenes beautifully, moving the action forward but allowing the comically gifted actors to fully realize their moments. Mr. Knight has assembled a magnificent cast. Naperville is produced by Slant Theater Project, and several of the actors have worked together in other Slant Theater productions, which shows in the ease and trust between cast members and contributes to the believability of Mr. Smart's characters. As Anne, 32 and living with her parents after a divorce, Stacey Yen gives a finely layered performance, brimming with devastation and desperate for hope. Brent Langdon plays Roy with boldness and intrigue, keeping the audience guessing as to his motives. Matt Dellapina brings a quiet and quirky intensity to the son Howard, and Brett Epstein's unique comic presence, as the barista and newly appointed manager of Caribou Coffee, endeared him to the audience. Howard's mother Candice is brought to life with finesse by Susan Greenhill who balances comedic and dramatic moments brilliantly; she creates a funny and moving older woman filled with hope and determination to still live life to its fullest despite the loss of her sight. Recorded clarinet music is played sublimely by Adam DeGroot.
"It's easy to tear something down," says Anne. "I want to build something." Naperville shows us that life's debris can be cleared and in community anything can be rebuilt.
---
Naperville, written by Mat Smart and directed by Adam Knight, stars Matt Dellapina, Susan Greenhill, Stacey Yen, Brent Langdon, and Brett Epstein. Performances continue at the June Havoc Theatre (312 W 36th Street, 1st Floor) through December 6. For more information and tickets visit https://slanttheatreproject.org/