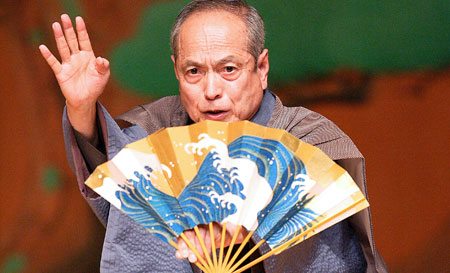 On Saturday, December 12th at the Japan Society, the Mansaku-no-Kai Kyogen Company proved that humor knows no bounds of time or place. Mansaku Nomura brought his company to New York City for a three night exhibition of Kyogen, one of the four classical theater arts of Japan, dating back to the 14th century and marked by UNESCO as a "Masterpiece of Oral and Intangible Heritage of Humanity." Kyogen is a popular, comedic theater, and no one does it quite like Mansaku, the patriarch of a family of Kyogen performers that stretches back 250 years, and a "Living National Treasure," as officially designated by the Japanese Government.
The evening got off to a lighthearted beginning with a short, comical piece titled Bonsan, The Dwarf Tree Thief. In it, a simple-minded man becomes so jealous of his neighbor's bountiful bonsai collection, he decides he'll sneak into the garden and steal one. When the bonsai owner spots the thief, he decides to have some fun with him, forcing him to bark like a dog and howl like a monkey to keep his cover and stay hidden.
Bonsan was followed by a more serious solo piece performed by Mansaku, Nasu no Yoichi no Katari, or The Tale of Yoichi of Nasu. The tale comes from a classic Japanese war epic, and centers around the vigor, talent and courage of one young soldier, Yoichi. Though in his 80s now, Masaku remains in brilliant control of his body, moving with a studied grace. He performed the piece resting on his knees, sliding from one edge of the stage to another as he transitioned between characters. Evident in this piece particularly, the billowing traditional garments add to the fluidity of the actors' movements and heighten the ritualistic aspect of the performance.
The final story, Akutaro (Akutaro Reforms), was not only the longest piece, it also represented a changing of the guard for the future of Kyogen. The role of Akutaro, a drunkard who is taught a lesson and led to repentance by his clever uncle, is played by Mansaku's son, Mansai, who has proven his commitment to merging classic with contemporary and East with West.
Unlike its more intellectual, thought-provoking counterparts, Kyogen is delightful in its lighthearted ease. On the troupe's website, in their introduction to Kyogen as an art form, they note its accessibility, which they attribute to "the simplicity of plot and characters, the vocal clarity of speech, the expressive style of acting, and the brevity of performance time." Indeed, the night's three pieces clocked in at under ninety minutes including an intermission. Like slapstick, the actors derive laughs using their bodies, faces and vocal cadences, and even the most pretentious among us are likely to find themselves laughing out loud in spite of themselves. Unlike the madcap informality of American sketch comedy or slapstick, however, Kyogen feels meticulously practiced, each step, turn, and sound calculated to a T.
Unfortunately, certain aspects of the performance were, quite literally, lost in translation. Because much of the performance rests on exaggerated vocal manipulation, though reading clued us into what they were saying, it was impossible to grasp specifically how they were saying it. When the Japanese speakers in the audience laughed at a slightly different pace, I found myself wishing I knew which words the actors were emphasizing to maximize the comic impact. But ultimately, drunkenness, jealously, thievery, and quarreling with pesky relatives hold an eye-rolling, universal comedy, one that needs no translation.
To find yourself laughing at a centuries-old art form, in a foreign tongue, with a room full of strangers is a pretty powerful feeling. This evening at the Japan Society served as a reminder that humor is an art, one that the Mansaku-no-Kai Kyogen Company has unquestionably mastered.