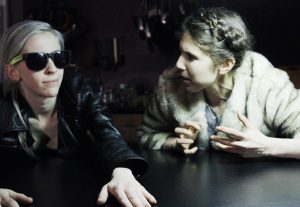 What happens between two childhood best friends when they go off to separate colleges? What is the effect of technology and social media on the communication between friends? What happens when you no longer remember why you are friends with someone? These are questions explored in this delightful two-woman play, "We Were Nothing!" Directed by Lisa Szolovits and written by Will Arbery in collaboration with Shelley Fort, Elly Smokler, Emilie Soffe, and Lisa Szolovits, the play follows Kelly (Smokler) and Shelley (Soffe) as they navigate an extremely close friendship that is put to the test by time and distance.
Best friends since childhood, Kelly and Shelley share history and inside jokes, gossip about people from their high school, and speak to each other in a coded language that suggests familiarity and ease. However, they seem timid to talk about anything real or serious; there's an immaturity to their relationship that suggests they do not really know each other well, or only know the versions of the people they were in high school. Now at the start of their senior year of college, a time when change is inevitable and usually stressful, there is a noticeable rift between the friends, likely caused by sustained distance and abetted by the disconnected and stilted communication of a technological world. Most of the dialogue is spoken as though the two are talking over the phone, email, Facebook, text, Skype, and, most hilariously, Gchat.
The specificity and the nuances of female friendship that are explored in this play are astounding, making the characters truly believable and authentic. The tension that the two actresses embody makes it feel as though you are really watching a friendship on the brink of ruin. This realism is undoubtedly helped by the fact that the two actresses collaborated on the script with the writer; you can almost see the different ways in which each scene could have gone, and this is evident in the playfulness of the performers.
Although set in the digital age, "We Were Nothing!" explores universal themes to which anybody can relate. It presents the space between childhood and adulthood, with a truthful portrayal of the change and upheaval that comes with growing up. Most importantly, it depicts female friendship honestly, with characters that are real, flawed, and recognizable.
"We Were Nothing!" runs through February 2 on Fridays and Saturdays at 8pm and Sundays at 5pm. The show is performed inside a private residence near Union Square. For more information, check out our listing here: [LinkButton]https://stagebuddy.com/listingdetail.php?lid=16498[/LinkButton]