Review: Now Is The Time. Now Is The Best Time. Now Is The Best Time Of Your Life.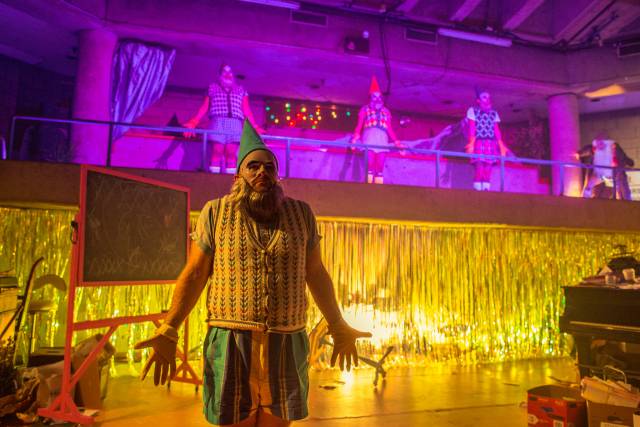 Some time between the coleslaw and the dancing gnomes I decided it was a fool's errand to try to overthink Now Is The Time. Now Is The Best Time. Now Is The Best Time Of Your Life., the latest "junk spectacular" (their words) by Brooklyn based theater company Little Lord.
Though, to be fair, the show -- onstage for a brief run at the Abrons Art Center in the Lower East Side -- is in part a rumination on overthinking… or rather, trying to outthink the un-outthinkable. In some indeterminate era, perhaps our own, Diedrich Knickerbocker (played by Michael Levinton) is plagued by his chosen life's work: writing a history of the New York from the beginning of time until the end of the known universe.
Now Is The Time is a fantastical pastiche culled from any number of obscure (Borscht Belt memoirs) and less obscure (Dirty Dancing) sources; Knickerbocker, arguably the play's protagonist, is an elaborate nom de plume of Washington Irving, one of America's first great writers. Irving credited Knickerbocker, an eccentric scholar, as the author of his first full length satire, A History of New-York from the Beginning of the World to the End of the Dutch Dynasty, and tasked him as the narrator of arguably Irving's most famous short story, "Rip Van Winkle."
"Cities have perished for want of a historian... This city would be lost if I did not snatch it from obscurity," Little Lord's Knickerbocker pants at the play's offset, already raving and sweating in a powdered wig and '80s printed waistcoat, pacing amidst the stacked and stuffed and crumpled piles of research and half-starts.
And so begins the nearly two-hour journey into the Catskills of the mind.
Knickerbocker is delayed in his work largely by his own procrastination -- fueled by a pathological, existential dread that pervades the entire production -- but also by an increasingly surreal series of distractions: mysterious phone calls, his belittling, harpy wife (Morgan Lindsey Tachco), who likes to remind him that he'll never amount to anything, and Rip Van Winkle (Lisa Rafaela Clair), who has a tendency to break into New York-themed jazz standards and wax on about borscht belt delicacies. Oh, and then there's the most disquieting disruption of them all, the the small flock of gnomes, who may be trying to inspire him to "do the work!" but in whispering and twittering spooky children's rhymes, end up serving as a constant reminder of his own mortality.
From bizarre sets that are tediously assembled into the appearance of chaos with stacks of beach chairs, a piano stuffed with pictures, walls covered in post-its, pre-show snacks of pickles and beer, fairy lights and slide projections, Now Is The Time conjures a world that must be experienced firsthand; any attempts at description of summation fall short and sound like nonsensical visions conjured by a fever dream. And indeed, I doubt that any two people would see this play in the same way.
The emotions of the play all straddle the line between ecstatic and tragic (reactions evoked straddling laughter and tears), and as a whole, the play points towards the universal, timeless fear of change, while also validating the particular wariness towards – and weariness of – gentrification's seemingly exponential acceleration in recent years. How can we ignore the fact that the Abrons Art Center itself looms in the shadow of swiftly multiplying condos where once stood centuries old buildings and a bustling hub of Jewish culture?
Director Michael Levinton, who wrote the play with Laura von Holt and the rest of the troupe, evokes a tight, impressive a stellar group performance from his players (credit also to Whitney G-Bowley for her choreography). For all its grandiose pronouncements and flights of fear-inducing fantasy, Little Lord's ultimate message lies in the work's title: Now Is The Time. Now Is The Best Time. Now Is The Best Time Of Your Life. For whatever infinitesimal fraction of existence we have, here it is, right? Today we feel and think and see and hear, and that's worth taking advantage of. Rip Van Winkle leaves us questions to ponder as we make our way back into the citystream: What will your legacy be? Have you carved out your slice of America yet?