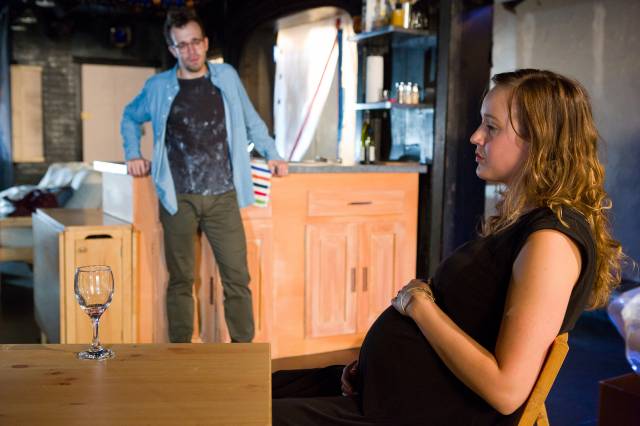 It's a testament to Rory Kulz' performance in The Old Masters, a play by Sam Marks running at the Flea Theater, that the character he plays comes across as someone worthy of the audience's care and concern. Ben, the central, unlikable character in a play about three unlikable characters, is an art lecturer and self-proclaimed struggling artist, who must watch a friend and fellow artist rise to fame for no discernible reason but the friend's sudden disappearance. The marketing scheme used to promote his friend's work, conceived by Ben, now haunts him, as he grows obsessed with his friends' success.
The themes of the play – jealousy, friendship, self-doubt, ambition – resonate in Kulz' performance as Ben. He brings to the character an affability that allows the audience to root for him. Kulz is the major reason the work avoids the possible pitfalls of another 'struggling artist' story.
Alesandra Nahodil and Adelind Horan as Olive and Lara have a tougher road to walk. These characters represent the familiar binary of wife and temptress in Ben's life. Their roles, limited by their use as foils to tell Ben's story, provide little breathing room for the actors. Nahodil plays Olive, Ben's pregnant wife, with unforgiving harshness. Contrasted against Kulz' endlessly likable Ben, Olive appears almost villainous, even though her actions are completely justified. Horan does better as the sincere Lara and her naïveté adds much needed lightness to the play.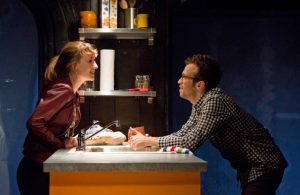 One of the stronger aspects of the production is the set by Andrew Diaz, who uses the basement of the Flea as a wide-open space of a house in the middle of renovations. Complete with funky furniture and jars of pasta and risotto, the set adds character and dimension to the play. Brandon Stock's direction is skillful and he paces the play with variations that mimic the protagonist's mental state. He is able to evoke both distance and intimacy through the tempo of the narrative.
The narrative itself might leave certain audience members dissatisfied, especially with how the plot turns towards the end. In what feels like a page out of Neil LaBute, playwright Sam Marks has taken a risk. I think the risk pays off, and the credit goes entirely to Kulz. Editors, publishers, and writing teachers discourage writers to write about struggling artists so as not to appear self-indulgent. But Kulz' performance as Ben is worthy of indulgence, as is The Old Masters.