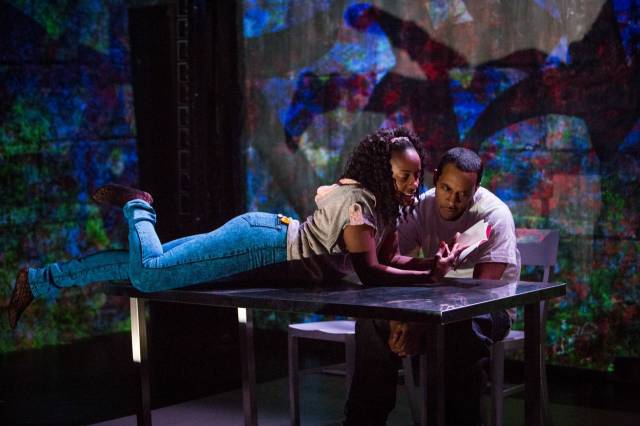 Paradox of the Urban Cliché by Craig "muMs" Grant is a gritty urban love story, full of swag and panache; style and grace; humor and pain. Presented by Poetic License, a company dedicated to the grey zone between theater and poetry, it is a truly strong production, and one you won't want to miss.
At the play's start, Ceez — a young black man living in Harlem — is arrested by a pair of unnamed totalitarian authorities. They burst into his apartment (with no warrant in hand), pistol whip him, cuff him, and drag him away without any given reason. Ceez is brought to a kind of No Exit-esque questioning room; a chamber without a door. There, he's grilled by a man named simply "Authority," who questions him not only over the events of Ceez's life (which is peppered with illegal activity), but also about his larger prospects — as a man and as a person living in the world today.  From there we see the story of Ceez life, as he juggles the pressures of living on the streets and his tenuous love life.
As a play Paradox is particularly timely, given the wealth of publicity that's finally being shown regarding the violence done to young black men in this country. But it is the language that is the true pleasure here. Dense and immensely layered, Grant's script shifts mellifluously between flat-out dialogue, and heightened spoken word. When characters spit back and forth, trading barbs and taunts, one can almost hear an iambic pentameter at work.
Jamie Lincoln Smith smolders as Ceez, bringing tough-guy ease and grace to a role that could easily fall into cliché. And Eboni Flowers does a lovely job as the tough-as-nails love interest, showing us a woman driven to the edge by the pressures of modern city life. Yet in a production that sings, above all else it is the direction that shines brightest. Reginald L. Douglas does incredible work, crafting a finely tuned world, and drawing great depths of emotion and finesse from his actors. A touch long, the play is still a strong piece, and its vicious end finds Ceez caught in a perpetual wheel of violence and loss. It is a play you won't soon shake off.