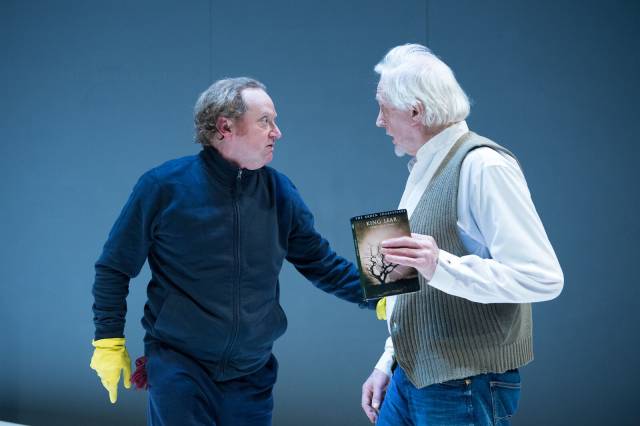 "I fear I am not in my perfect mind," says King Lear in Act 4, Scene 7, but one can read William Shakespeare's most perfect tragedy as one in which insanity leads to clarity. When Lear disowns Cordelia, his closest advisor Kent warns him, "see better"; when the king descends into madness, he truly begins to see. The creators of My Perfect Mind – Kathryn Hunter, Paul Hunter and Edward Petherbridge – blend the line between the seen and unseen, insanity and clarity, illusion and truth. The two-man play, featuring Paul Hunter and Petherbridge, is currently running as part of the Brits Off Broadway festival at 59E59 Theaters.
The production contains the hallmark of a great British production: a biting sense of humor. Based on Petherbridge's life, specifically the stroke he suffered during the second rehearsal for King Lear, My Perfect Mind uses humor to undercut tragedy. The effects of the stroke may be visible on the aging actor, but his reflections on a life lived in the theatre are sharp and witty, his sense of the past put into hilarious aphorisms such as "there are no pauses in Shakespeare, that's Checkov" and "you'll learn about work avoidance in acting school." Instead of being nostalgic, Petherbridge's characterization of the process of creating theatre highlights the silliness of it all.
Every time the silliness is played up, the way King Lear echoes Petherbridge's own life is played down, preventing the story from veering into schmaltz. The actors break the fourth wall between them and the audience and their self-deprecating performances distract from what's on display - a slanted set at a 45 degree angle with chairs and table that might slide down and a trap door that Petherbridge always inches a little too close to. We worry for him, but he proudly proclaims, "My age is not lost on me." Then, he steps right over the trap door.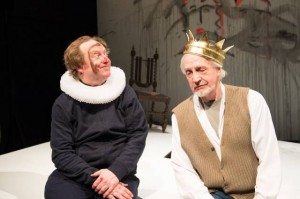 Always at Petherbridge's side is Paul Hunter, who plays characters from King Lear and Petherbridge's life. The list of over ten includes minor characters such as a taxi driver and a stage manager on the first day of her job. Hunter spends the entire ninety minutes of the play transitioning between characters, assisting Petheridge's changes and shifting set pieces and props. He moves at a frantic pace and in the process elevates the trope of the king's fool or the star's sidekick from a diversion to a necessity. Even though Hunter and Petherbridge's exchanges might be outlandish rather than dramatic, it's in their relationship that the play's central theme comes alive.
Beyond pettiness and jealousy, awards and advice, beyond the desire to be great and greater, exists the care and protectiveness that Hunter and Petherbridge display for each other. Borne from careful attention to his scene partner, Hunter's award-worthy performance reminds us that some of the greatest performances are shared. They cannot exist without each other.
Theatre is a tough business, fraught with competition, but My Perfect Mind shows the interdependencies, the people and the relationships, that make the stage a place we all come together to "see better."