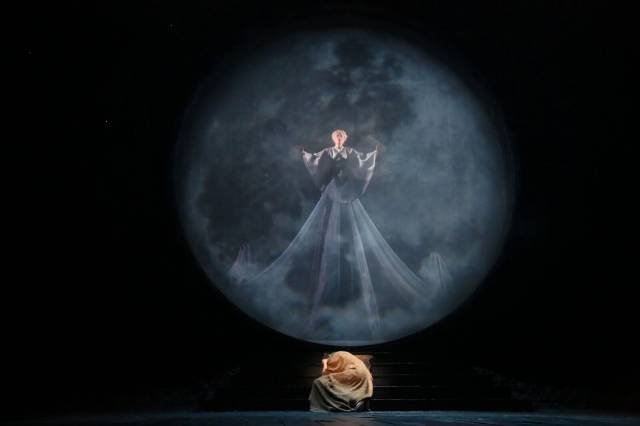 William Shakespeare's Pericles, directed by Trevor Nunn for Theatre for a New Audience at the Polonsky Shakespeare Center, is an amalgamation of so many Shakespearean plays. It's like The Tempest and Twelfth Night with its multiple shipwrecks. It has the magical elements of A Midsummer Night's Dream with a tidy resolution at the end. Music is woven through (Shaun Davey); it even has a kind of Greek chorus like in Romeo and Juliet. There are religious themes, incest, and even a case of mistaken identity just like every Shakespeare play ever written. In the hands of one of the most renowned theatre directors, however, this production is far from typical.
The story is of Pericles (Christian Camargo), the Prince of Tyre, who is sailing around ancient Mediterranean cities to escape an assassin set upon him after he discovers a dark secret about the King of Antioch (Earl Baker Jr.). In Pentapolis, he is the guest of King Simonides (John Rothman), who has a beautiful daughter, Thaisa (Gia Crovatin), with whom Pericles falls in love and marries. On the trip back to Tyre, a storm strikes their ship, and Pericles' pregnant wife is killed, but not before giving birth to their daughter, Marina (Lilly Englert).
Pericles and his surviving men put Thaisa's body in a coffin and toss her into the sea, where she washes up on the shore of Ephesus. There, she is brought back to life by the physician Cerimon (Baker Jr.). Thaisa, believing her husband and child dead, decides to become a nun in the Temple of Diana. Meanwhile, Pericles gives Marina to the Governor of Tarsus, Cleon (Will Swenson), and his wife, Dionyza (Nina Hellman), who foster the girl for 16 years. Running away from an assassin who Dionyza orders to kill her, Marina is sold to a brothel in Mytelene, where she makes a name for herself for being unshakably moral. Will Pericles ever be reunited with his dear, lost daughter and supposedly dead wife?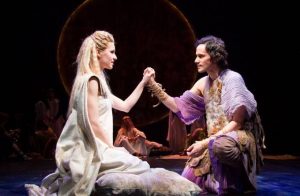 Everything from the costumes (Constance Hoffman) to the sound (Daniel Kluger) and set design (Robert Jones) is simple but distinctive. One of the best elements of the production is a very unique set piece: A gigantic, copper, round sliding door that opens up to reveal background scenery and acts as a kind of stage within the stage. The members of Pigpen Theatre Company perform onstage and off as musicians and players to the delight of the audience.
But it's the acting that grounds the show. All the actors demonstrate great skill with the language, emoting Shakespeare's lines beautifully. Nunn is extremely masterful at producing a show that feeds all the senses, employing bright and colorful visuals and a rich sound tapestry. Pericles may be more than 400 years old, but Nunn and company make it come alive again.