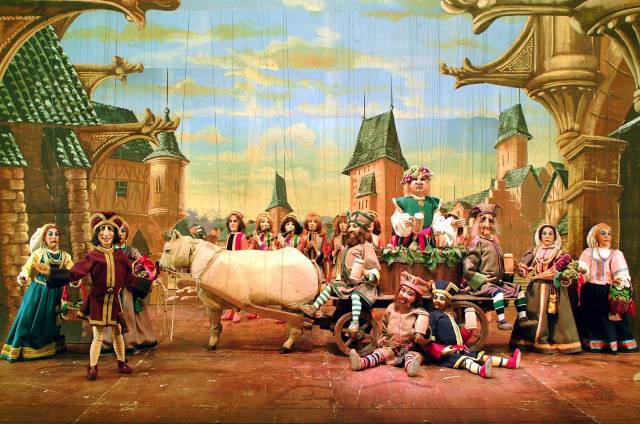 Children, adults, and everyone in between will delight in Carlo Colla & Sons Marionette Company's stupendous marionette version of the classic fairy tale The Pied Piper, now playing at The New Victory Theater. In this lavish production, 410 handcrafted marionettes are brought to life by 11 puppeteers with such grace that I found I was reminding myself that I was actually looking at puppets, and not real people and animals. (Those who are interested in the mechanics of the production may find it worthwhile to check the theater's website for selected performances that allow you a peek behind the scenes.)
This particular version of the beloved classic gives us a happier ending without shying away from the traditional storyline. A crippled boy who metaphorically marches to the beat of his own drum is the story's hero; a generous and kindhearted poet, he finds peace and solace with the banished animals of Hamelin -- beloved former-pets of the children, now deemed too much of a distraction by the well-meaning, yet misguided Hamelin Town Council. Issues of the treatment of children and animals, and of the government's dishonesty (the council refuses to pay the Pied Piper after he has rid the town of its rats), are executed with care and and unabashed creative genius, speaking to all age groups.
The visual treats are boundless, beginning with the set itself which is a marvel of engineering, cleverly designed to create different depths and make full use of the stage (used to dramatic effect with the 300 marionette rats poised to meet their grizzly destiny). The town of Hamelin is painted with extraordinary artistry that creates a three-dimensional illusion of walls and doorways.  The high caliber production also includes beautiful operatic interludes; these, coupled with the stupendous lighting effects, make it easy to feel a world away. With hauntingly beautiful melodies, spellbinding visual scenery and lighting effects, and hundreds of hand-crafted marionettes, you will cheerfully fall under the spell and willingly follow The Pied Piper.