Pitbulls, a new work by Keith Josef Adkins now playing at the Rattlestick Playwrights Theater, is a strong play by a talented, fresh writer. Set in the backwoods of Appalachia, it dives into the vicious subculture of pit bull fighting. The play centers on Mary and her son Dipper, who reside in a beat-down trailer and make their living selling their homemade wine for pennies and dimes. The town they live in is one obsessed with pit bull fights, and when a prized dog is mysteriously butchered before a big match, fingers start to point and tempers flare.
A sexual heat drips over everything in the play, and violence lurks just under the skin. One of the first images placed in the audience's mind comes from the excellent sound design by Bart Fasbender, who gives the play a particularly strong soundscape. The sound of dogs ripping one another apart clamors through the Appalachian hills, and we are forced to fill in the gruesome blank.
Yet most of all, it's the mother-son relationship that sits at the play's heart. It's these relationships that Mr. Adkins is interested in, rather than the brutal savagery of dog fighting. His story is one of a mother-son relationship that feels far more brother-sister in nature. Mary (the strong-willed Yvette Ganier) is an overbearing mother to Dipper (the charmingly sweet Maurice Williams), and comes across as a kind of Appalachian Ma Barker. But your heart breaks when she says simply, "All my life I wanted to be better than them."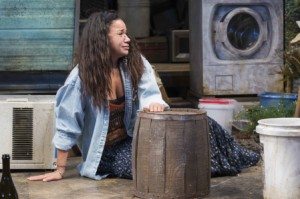 There is some beautiful Appalachian poetry in the dialogue of the play, and the gruesome images are strengthened by Leah C. Gardiner's clean direction, and sparse sensibilities. Special notice should be given to the set, designed by Andrew Boyce: rundown and cut up, it's a trash-hole, but it's home. The quiet moments of the play are what work best: when Mary and Dipper sit on the earth and just wish. We don't know what they're hoping for, but given their dire surroundings, we can well imagine.
Theirs is a family that is the proverbial runt of the litter, scrapping viciously to survive and come out clean and shining. In this play some characters do, and some don't, but none of them leave the way they entered. An Appalachian love song to pit bulls and dog fighting, Pitbulls is a brutal story of family and loss.
---
Pitbulls is written by Keith Josef Adkins and directed by Leah Gardiner. The cast is Yvette Ganier, Nathan Hinton, Billy Eugene Jones, Nedra McClyde, and Maurice Williams. The set design is by Andrew Boyce; costume design is by Dede Ayite; lighting design is by Eric Southern; sound design is by Bart Fasbender. The production manager is Jeremy Duncan Pape; the production stage manager is Joan Cappello; the assistant stage manager is Elizabeth Strauss. Performances continue at the Rattlestick Playwrights Theater (224 Waverly Place) through December 13; for tickets, visit https://www.rattlestick.org/