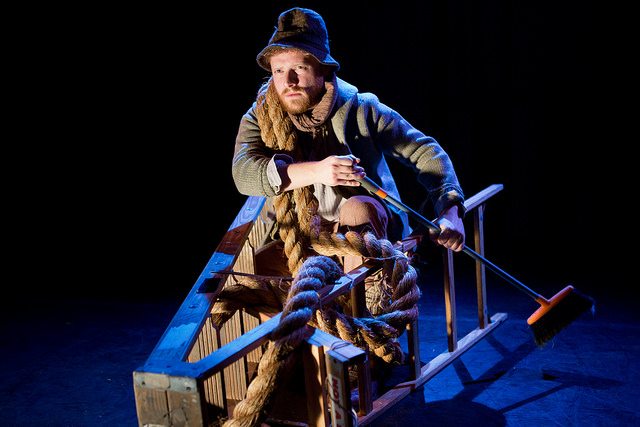 The not-for-profit Brick Theater in Williamsburg (once an auto-body shop in its multiform past) provides a snug and innovative performance space.  At the helm this week are the Tugboat Collective, a Brooklyn-based experimental theater company of multi-skilled artists.  The proclamation of their work is to try "to make more problems than it solves".  Regarding their current production of Poor Sailor, directed and audio-designed by Eben Hoffer, written by Chloe Brown and based on Sammy Harkham's graphic novel of the same name, one can concur that as it shifts between uneven sea legs, its journey isn't without obstacles.
Harkham's original story (a mini-comic prior to its appearance in the Kramers Ergot issue 4 anthology) of a man who swaps the isolation of married life in a work-in-progress house for an intrepid one at sea is willfully minimalist and effectively bleak.  There are consequences to seeking adventure, none more so than the abandonment of simplicity and emotional ties.
Tugboat Collective's multidisciplinary interpretation relies heavily on physical theater from its energetic ensemble cast (Nathaniel Basch-Gould, Megan Hanley, John Kurzynowski, Izzy Sazak and Nick Trotta), who skilfully inhabit a dizzying sundry of characters, comic turns and tragic interplay.  Hoffer combines sea shanty songs and spartan props, while Mike Faba's lighting sets the fever-dream tone that takes the audience to the brink of near-awakenings before submerging them under a murky layer of eerie tension.
This adaptation attempts to experiment with the original narrative by conveying the experience of depicting and participating in the play.  These efforts, though laudable and periodically rewarding, are sometimes problematic.  At times, the play loses scope within its conflicting components.  The repetition of simultaneous focal points is distracting, as are the frequent spurts of high energy, namely, a lot of back-and-forth running.  Instead of lending itself to the quiet contemplative drama occurring elsewhere onstage, or to the letter reading, the latter of which the story arc often depends on for coherency, this combination of emotive minimalism and frenetic movement becomes fractured and bewildering.  The characters, bystanders to their own fate, are sometimes lost in the material that they are consciously trying to figure out during the performance.  They are purposely self-aware.  Such artistic administering, towed alongside the representations of objects and actions in the form of announcements and, towards its conclusion, slipping into incongruous vernacular, prevent Poor Sailor from being the consistently effective story it ought to be.  Overall, this is an inventive and appealing production, let down in part by direction that every so often, sets the story adrift.