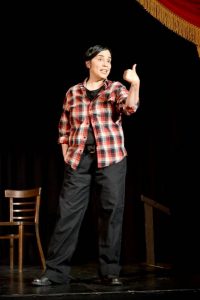 Marga Gomez is indecent. And who could blame her? Thumbing through all those Legion of Decency magazines in her formative years, searching for movies condemned by the US Catholic Church, to titillate, inform, identify and one day discover, was bound to leave an impression on her material. The 1968 film The Killing of Sister George, Gomez learned, marked by its sadomasochistic cigar butt eating scene, was doubly bedeviled due to its lesbian lead characters. Up until then, cinema's lesbian depictions, other than vaguely subtle sketches, were few and far between. Gomez wanted more.
In her self-penned one-woman show POUND, directed by David Schweizer, GLAAD Award-winning writer/actress/comedian Gomez takes us on a part-biographical, part-hypnagogic, part-sex-trek expedition through a life measured and identified against a critical and yet feverish attachment to a lesbian line-up of cinema's most wanted. Characters from The Fox, The Children's Hour, Basic Instinct, Notes on a Scandal and her personal favorite, Bound, form links in a sapphic chain of events, largely told within the organized narrative of a movie script.
Gomez' chastity is a burden she can do without. Negatively assessed by gynecologists and dating site members, a chance encounter with a French lesbian in a movie theater bathroom takes her on a personal quest via a non-traditional route, lined with lesbian movie icons. Gomez must submerge and tunnel, quite literally, through an available vulva in order to return to her world and the gay nephew she has left behind.
Gomez is a woman obsessed with films. She willfully mocks her own small fateful part in the 1998 film Sphere. Using movie bookmarks as a scene-shifting device, she successfully moves the plot from the familiar to the abstract. Gomez is lewd, raw, unapologetic and crucially, very funny.
Those who prefer their erotic theater entertainment subtly nuanced may not respond to POUND outside of the wind tunnel effect. Then again, those familiar with Gomez' previous shows and stand-up comedy will not be surprised. The late Robin Williams once described her as: "Amazing, she's like a female Lenny Bruce." The Vagina Monologues (for which Gomez has contributed) wilts ever so slightly next to the head-up-vagina vignettes that POUND presents for laughs and post-show pondering. This is an all-inclusive highly energetic ride that is consistent with the audience's enthusiasm and standing ovations.
The LGBTQ festival HOT!, now in its 24th year, is the longest running festival of its kind in the world. Downtown New York's non-profit Dixon Place, committed to showcasing a number of theatrical genres in various stages of development, is the perfect host for over 100 artists whose collective work is often provocative, explicit, and as significant as it is influential. POUND fits the bill and more besides. To add to which, any performer, in this case Gomez, who invites the audience for cocktails in the upstairs bar is onto a winner.