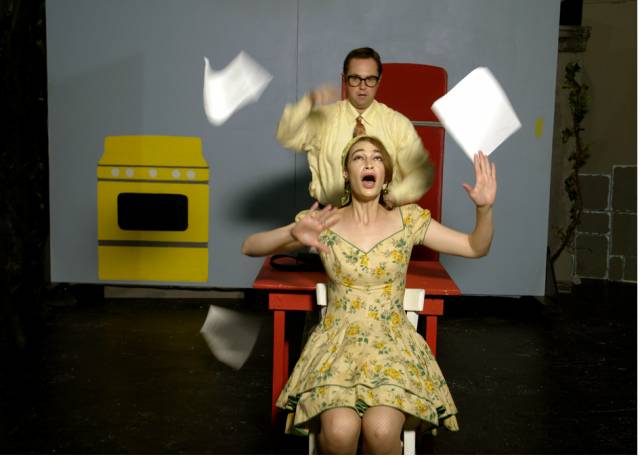 To quote our old pal Billy Shakespeare, "the course of true love never did run smooth." Walking out of Theater for the New City's double feature opera program, The Power of Love, you might think truer words have never been spoken.
Now normally I would attempt to perform some intellectual sleight of hand, where I carefully weave my reviews of double-billed plays together, but Out the Window and Rappaccini's Daughter, presented by the After Dinner Opera Company, are two very different beasts.  The evening began with Out The Window, a self proclaimed "opera lampoon" by Seymour Barab, a dynamic character and champion of opera, who passed away this June. The simple, colorful set serves as the backdrop for a playful musing on marital fidelity, as two neighbors, who see themselves as paragons of virtue, end up thrown together to share their problems. Lauren Hoffmeier and James Parks, as wife and husband respectively, deliver powerful but appropriately lighthearted vocal performances, and the balance between sung and spoken lines maximizes the punchy comedy and serves as a great introduction for those new to opera. 

To me, the missteps lay in the choreography. Some moments aimed at being deliberately and comically madcap became uncomfortably so, and seemed to get a tad out of hand, and scenes or dramatic moments played out on the floor were entirely eclipsed to audience members not in the first row. And one glaring oversight by the costuming department, who otherwise did a great job providing the wife with a raggedy glamour: No wedding rings! The magic is in the details sometimes, and I couldn't resist a peek at their bare ring fingers. 

However, the actors kept on their toes, clearly having fun with the material, while still imbuing their characters with a realism that allowed us to follow them when the play hit moments of real drama amidst a great deal of silliness. Opera is a form that allows us to explore the fine line between drama and melodrama, and, as it happens, the 1950s household is also a perfect incubator for this discussion. It's funny that our "husband" of the story thinks it's okay to pinch the maid's behind, it's not so funny that his wife has packed her bags and left. It's funny that the "wife" guzzles martinis and cracks jokes, it's not so funny that her husband's jealously has been known to turn violent. In a city like New York, we all need an occasional reminder about just how much you can see when you look out the window.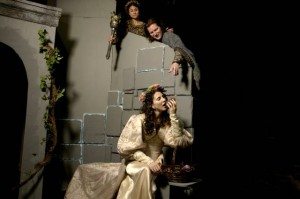 To address the opera that took place after intermission, Rapaccini's Daughter, I'd like to begin by saying (this goes out especially to all of you opera naysayers out there) that it's truly remarkable how relatable medieval Italy is to our modern times. Enter a college student, far from home in the big city, bummed that he has to climb so many stairs to get to his tiny room which he's renting from a dodgy landlord (ring any bells yet?), and then to make matters worse, he falls in love, but the girl's dad is totally crazy... And he keeps her locked up in a magical garden. Okay, so maybe not that last part. That's where we enter a realm of magic.

The opera, based on Nathaniel Hawthorne's short story of the same name, is stripped down from Hawthorne's flowery tale about a doctor and scientist who plots an evil fate for his daughter and an unassuming medical student, the sparse structure leaving just enough to keep a meaningful narrative, while allowing the powerful vocal performances and beautiful composition to speak for itself. 

The stage transforms into a mysterious garden, and lyrical dance performances by a group of twisting and twirling "plants", portrayed by members of the company, helped enhance the eerie surreality of the tale of fated, tragic love, of the quest for science and the all consuming drive to play God. William Broderick is perfectly sinister as the brilliant but narcissistic Doctor Rappaccini, and Martin Fisher's deep baritone contrasts well as Baglioni, good guy Professor. Douglas McDonnell as Giovanni and Samantha Britt as the titular character, Beatrice, play well together as tragic lovers, though McDonnell's voice seems almost too powerful for the modest space at times, especially in duet with Britt's delicate but beautiful soprano. 

It was truly remarkable to come face to face with opera in gritty, downtown New York. Through the magic of thoughtful set design and striking vocals, the problems of the day fall away in the sumptuous, classical performance replete with heroes, villains, and maidens fair. We live in an age of such unrelenting irony, it seems that there's no better time to be boldly sentimental. Cryptic threats and romantic proclamations carry so well when they're belted, if you ask me.

Some may say it's overwrought, but I say it's opera!