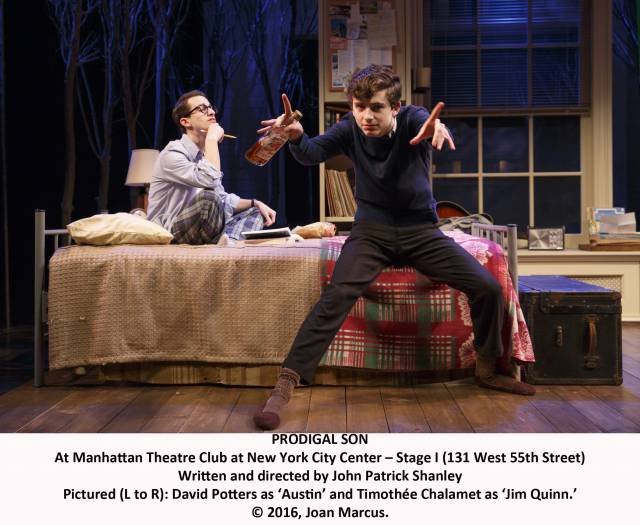 A set-piece in miniature, a school boarding house, emanates little glimmers of warmth as the window lights switch on one by one. The bare trees of Santo Loquasto's set design suggest a cool, lonesome atmosphere by contrast.
In Prodigal Son, presented by the Manhattan Theater Club at City Center and written and directed by John Patrick Shanley, the Pulitzer Prize, Tony and Academy Award winning dramatist behind Doubt (the play and the film), Moonstruck and Outside Mullingar, teenager Jim Quinn (Timothée Chalamet) wins a scholarship to Thomas More Preparatory School in New Hampshire. In this new environment, much more scenic and reclusive than his native Bronx, Quinn demands definition and clarification from the poetry he reads, from his put-upon roommate Austin (David Potters) and from his academic elders, headmaster Carl Schmitt (Chris Mcgarry), Schmitt's wife Louise (Annika Boras) and English teacher Alan Hoffman (Robert Sean Leonard). From all, Quinn seeks and shirks guidance at a rate comparable to his extracurricular imbibing. Within a timeline stretching from 1965 to 1968, our pugnacious bright spark ships his puppy dog eyes, plotted half smiles and irreverent slouch from one mishap to the next, while making his own sport and entertainment from starting fights with fellow students.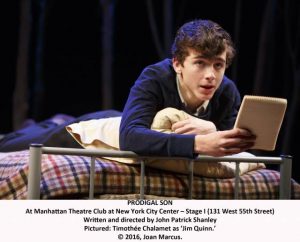 But with all his ingenuity and rebellious traits, he is perhaps salvageable. We know this because Prodigal Son is autobiographical, based on Shanley's own Bronx tale that - as fate would have it - shifted to a private New Hampshire school in the mid-60s. When Quinn's tutor Louise asks him why he finds the Nazis so interesting, he replies: "They're just the perfect enemy." Similarly, Quinn's floppy-haired adolescent angst, his constant questioning and his Catcher in the Rye craftiness seem at times too fictionally familiar to be realistically credible, despite stimulating dialogue and Chalamet's riveting star-turn performance. From Quinn's perspective, redemption is attainable through those that can define him, thereby permitting him to determine and characterize himself. However, his tenacity appears to draw weakness from the worn-out adults trying to make a living, if not a difference, at Thomas More Preparatory School.  Perhaps Prodigal Son's main failing is that the adults appear more deserving of our empathy.
Robert Sean Leonard, himself no stranger to juvenile pain and discovery from his turn in the 1989 film Dead Poets Society, instinctively understands how to portray grievous flaws in and around likability and sensitivity.  Further transgressions from a wider circle help get Jim Quinn off the hook so far as his future is concerned.  "I'm Jim Quinn. I was born Jim Quinn and I'll die Jim Quinn."  Given the effort the lad has put in, it's not such a bad fate, all things considered.