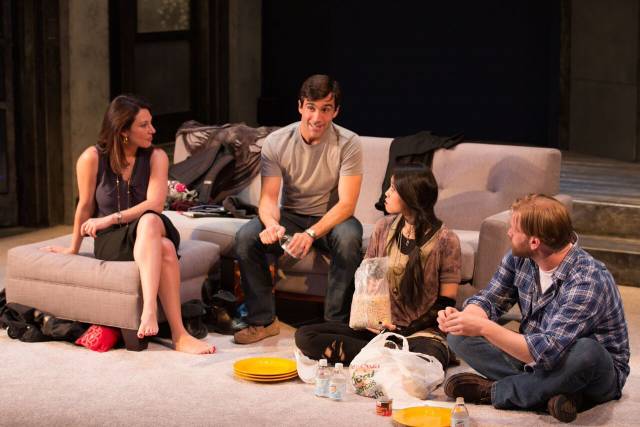 There's a lot that goes wrong in Promising, a new play by Michelle Elliott presented by InProximity Theatre at the Beckett Theatre: a City Council member is accused of sexual assault, a twenty-year-old who believes that the world is ending quits school, a former idealist is now a politico and a failed poet is a speech writer. There's also a dog that everyone forgets needs to be walked and fed.
Elliott uses her characters as the compass for the progression of the plot, and twists and turns unfold without feeling contrived. The themes are tragically familiar – power and privilege, blurred ethical lines in the realpolitik, and the downfall of a hero – but what sets Promising apart is the precise, machine-like direction of Terry Berliner. Berliner, with the help of set designer James J. Fenton and lighting designer Paul Miller, captures the bleak world of the power brokers of the most powerful city in the world. The industrial design -- floor-to-ceiling windows that prompt one of the characters to ask "where do you get dressed" and dull grays and brows -- is the perfect cage for a play about four people trapped in a world of their own creation.
The casting of these four roles is perfect. Councilmember David, played by Jake Robards, reminds one of the once-charismatic-later-creepy John Edwards, while his half-Chinese "goth" sister Gemma, played by Kim Wong, adds just the right counterbalance by spewing one of the play's recurring themes: the earth is dying and no one is doing anything about it. Gemma shares many scenes with Shed (Zachary Clark), the former poet, and their chemistry has the energy to move the narrative forward. The cold campaign manager, Verity, who is helplessly in love with the Councilmember is played by Jolie Curtsinger, believable from the moment she walks in, cursing in heels, with her headphones in her ears. The entire cast walks through the play without a fumble or a fall, even managing the choreographed scene changes impeccably.
It's a polished production, displaying the kind of shine and gloss one might expect from a political campaign. This choice also creates a coldness in the production's tone, one that keeps the audience at a distance, even in the final emotional scene. The breakdowns and fights occur in a clinical manner, making me wonder at the end of the play: do I know these people at all? Berliner has accomplished yet another brave production with a distinct point of view.