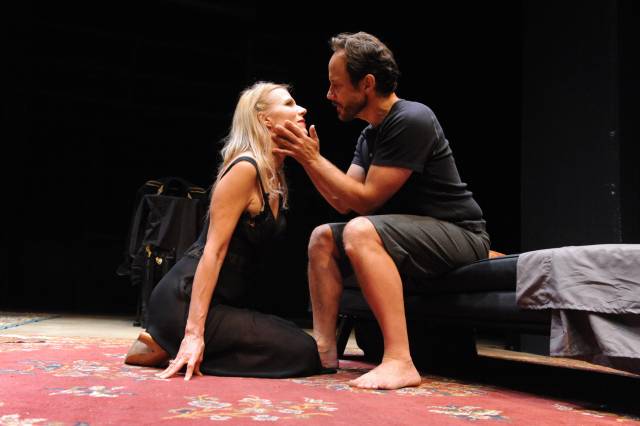 The double bill of Howard Barker's Judith: A Parting from the Body and Caryl Churchill Vinegar Tom at Atlantic Stage 2 by PTP/NYC, now in its 29th year, is astounding in its simplicity. As difficult as the plays are to grapple with, they are not made easy here by surreal settings and radical re-imaginations. There's no point of view on display in the two productions, just stories told, simply, by an ensemble of gifted actors and a couple of directors who understand the gift of practicing restraint.
Judith opens with Holofernes (played by Alex Draper) pondering the nature of death, and those not used to Howard Barker's nontraditional mise-en-scène might find themselves a little off-footed. They won't find any reprieve or hints and clues in the stagecraft, which includes a bare set, with some IKEA chairs and a bed. In the first fifteen minutes, Judith (Pamela J. Gray) has stripped down to a nightgown and the servant (a magnificent Patricia Buckley) has almost been strangled. And from then on, the circumstances continue to become more incomprehensible and the characters' motivations more complex.
It is to director Richard Romagnoli's credit that no attempts to make the play more accessible are made. Instead, the ensemble, particularly Gray and Buckley, capture the rhythms of speech so perfectly that they begin to feel natural to the audience. The crackling chemistry between Gray and Draper engages and torments, and a love affair borne from lies transforms into something familiar. It creeps into our quiet minds as Barker's work often does and makes a particular home, probing the question of whether art should comfort and cradle or challenge and confound.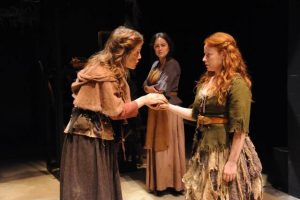 In their denial of the need to make 'sense' for the audience, Barker and Caryl Churchill are similar. Set in a world where witches are burnt at the stake and tensions and insecurities regarding land and wealth are rampant, Vinegar Tom taps into what makes us act in the most inhuman ways. The direction by Cheryl Faraone is unsentimental and unapologetic. The play is neither a rousing cry for women's rights nor a sermon on socio-economic disparities, yet it is affecting in the world it conjures up where these themes are very much at play. The ensemble is terrific, especially Tara Giordano's portrayal of Alice. In her performance, Churchill's words feel as fully realized as they ever have.
It is impossible to talk about Vinegar Tom and not mention the brilliant music and music direction by Carol Christensen. The singers Caitlin Rose Duffy, Joelle Mendoza and Liana Barron are a welcome interruption to the course of events with catchy songs like "Nobody Sings," "Something to Burn" and "If Everybody Worked as Hard as Me," but every time a song ends, we are left with the distinct impression that though this may be an old story about hanging and burning witches, it has troubling implications even now.
It's rare to walk into a New York theatre now and see a play unfettered by its desperation to be original. PTP/NYC's double bill is theatre at its best because of its confidence in the well-told tale.