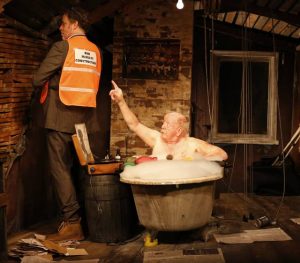 Origin Theatre's 1st Irish Festival is the only festival outside of Ireland that is dedicated solely to Irish playwrights.  In The Quare Land, currently playing at Union Square's DR2 Theatre, playwright John McManus and director Ciarán O'Reilly (co-founder of The Irish Repertory Theatre with Charlotte Moore), both County Cavan men, have conspired to make us laugh with caution by combining impish wit with a tone that switches from blithe to sinister.
Ninety-year-old Irish farmer Hugh Pugh (Peter Maloney), marks his estranged brother's imminent visit by having his first bath in four years. It's a grand occasion, with bubble bath and a whisk for maintenance, music on the go courtesy of his easy-to-reach record player, and a series of pulleys, designed in the main to retrieve his bottled beer from inside a toilet that looks as though it hasn't been scrubbed in as long as Hugh himself. A man unknown to Hugh interrupts this sanitary event with an unexpected visit. Rob (Rufus Collins), of Rob McNulty Construction Ltd, wants to buy Hugh's field and turn it into an eighteen hole golf course.  He wants, he says, to put County Leitrim on the map. This is news to Hugh, who knows only of his immediate fifty-one acres with a modest nine cows. The discovery of this other five acre field in Ballinamore in Hugh Pugh's name leads to the two men uncovering a mystery that goes back to a much younger Hugh getting robbed on the boat back from an unsuccessful stint in London, an episode, it transpires, that has a bizarre link with an iconic photograph from 1932.
While Rob's anxiety mounts over an unsigned contract, so too does Hugh's willful ignorance and dominant storytelling. His dog Jesse James' "rabbit chat" is far more interesting than financial negotiating, as is watching children's television, reminiscing over "horizontal jogging with yer one Babs" across the water and playing Enya ("still single") and Bobby Darin ("Fuck off back to the Bronx, Bobby Darin!") on his record player. A test of wills and cunning manipulation ensue.
Ex-plasterer and playwright McManus took his inspiration for The Quare Land from a bathtub scene in the Clint Eastwood movie The Good, the Bad and the Ugly. The play has a satisfying lawlessness that fits the stimulus. It is funny, wicked and full of mischief. O'Reilly's direction reels in the darkness with as much adeptness as Hugh Pugh's beer retrieving pulleys. Scenic designer Charlie Corcoran's farmhouse is so rickety, bent-up and abiding to Hugh Pugh's whims that it ought to get a credit as a third character. Rob the builder may not be likeable but Rufus Collins' arresting, tense portrayal has his frustrations fully felt and comprehended, while Peter Maloney's performance fills out every nonagenarian Hugh Pugh wrinkle. In his character's own words, "It takes a clever man to play the fool..."