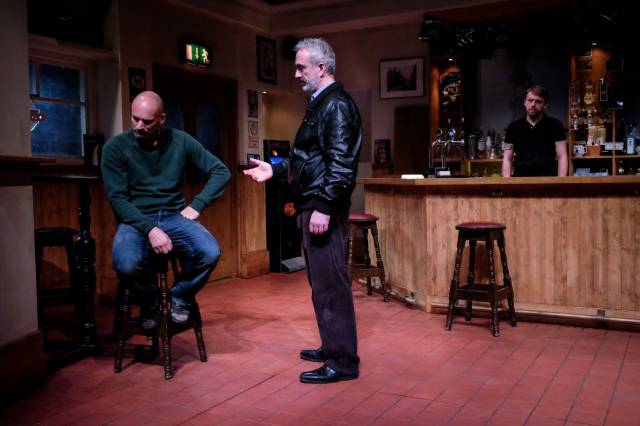 The National Theatre of Ireland, Dublin's Abbey Theatre, has a history that, other than a bit of infamous seat-tearing, was instrumental in the country's vast political changes in the first quarter of the 20th century. In its newest transatlantic offering, presented by the Irish Repertory Theatre in association with The Public Theater, Owen McCafferty's play Quietly takes place over the border in Belfast, away from the Free State turned Republic. The Good Friday Agreement may have quelled The Troubles of Northern Ireland, but many grievances attached to the sectarian violence of old can be so acute, that the present holds them still in its quivering grip.
In a traditional looking pub (set-designed by Alyson Cummins) that is a deliberate foe to modern trends, Polish bartender Robert (Robert Zawadzki) is glued to the football match on the TV. Newly arrived patron Jimmy (Patrick O'Kane) senses trouble in the rowdy young things outside of the pub and offers to do something about it. Robert urges him not to, he doesn't want any trouble.  When Robert jovially comments on the loud, shouty nature of Irish people, Jimmy declares resolutely that "We all need to be heard at the same time."
Jimmy has arrived to meet Ian (Declan Conlon). They are strangers to each other, both 52, and present to bang heads (literally) as well as seek closure on an event that occurred in 1974 when they were 16, an episode that forever changed their lives as well as ended others. What follows, anger and poignancy, acrimony and assent, exists equally in electrified silences and fraught discourse. Robert the bartender cannot belong to either side of this long-running argument. Through his interloper status, we experience the powerlessness to do anything but observe...quietly.
Personally speaking, it is always a thrill to observe that increasingly rare group of actors who don't look like they have been preened and spoiled by familial funding, drama school or a self-conscious reflection. O'Kane as Jimmy is one of them. Shadows accustomed to true menace have willingly let go of him for 75 minutes, if only to reevaluate the tension they hold so dear. Jimmy is the real deal. Armed with a lifetime's build-up of rage, you'd be wise not to bump into him on a night when his head is full of history and his body ill-digesting the present. His mien is understandable. At his core, he is a decent man.
One could say the same about Ian, at least nowadays, no longer the pawn of his elders amid a dirty war. Conlon applies great tact to Ian by just about managing to contain his character's three-and-a-half-decade burden. Again, and under Jimmy Fay's assertive direction, it is the silences that offer a wider gap for us to step into, observe and absorb. Quietly is a thrilling, moving and prompt reminder of the consequences of conflict on ordinary citizens from the ground up; highly recommended.