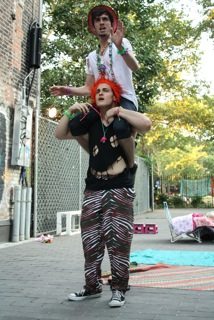 A Midsummer Night's Dream explores misunderstandings, trickery, and magic; nothing is as it seems. In this vein, Quirky Productions' reimagining of Shakespeare's famous romantic farce does not disappoint. In fact, it often surprises. The first moments of the play are noticeably subdued, quaint – not only in the actors' manner and behavior, but also in their costumes. It reads more 'Yuppie,' than 'Hipster.' The stage, set in an emptied lot in the Lower East Side lends itself to the upscale urban life that the scene imbues. Thus the trap is set.
The moment Titania and Oberon enter, accompanied by a barrage of glow-stick waving Fairy Ravers, everything changes. From then on, a pulsing, energetic string ties together one scene to the next.
As Bottom, Patrick Shane adds to the momentum of the play with his energy and comedic chops, while never forgetting to convey the specificity in each word he utters. However, it is James Kamensky and Yadin Goldman's electrifying performances as Puck and Oberon, respectively, that transform the show into a mesmerizing spectacle. They watch and manipulate the mortal world through volatile, hyper-sexualized and intensely funny actions that keep us captivated. Steve Godoy also lends to the humor as Lysander with natural comedic timing, while Melissa Mickens delivers a consistently bold and funny performance as both the First Fairy and Philostrate.
If you're into surprises, and laughs, don't miss this Midsummer. It's a production that will give you more than your fair share of both.
Performances of Quirky Productions' A Midsummer Night's Dream continue through July 27.  To reserve your FREE tickets, click here.