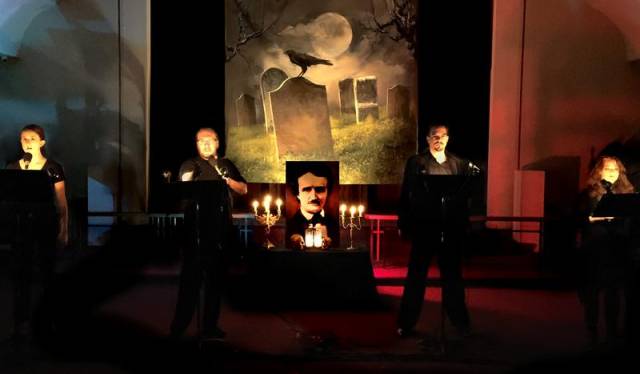 Welcome to the dark and mysterious world of the Edgar Allan Poe Festival. Now playing at St John's Sanctuary, which has been transformed into an eerie underground crypt, complete with candle light, skulls, fog, and ominous sounds that send tingles up your spine, this live stage production of 16 horror stories told over four weeks comes from Radiotheatre, the Drama Desk-nominated and NY Innovative Theater Award-winning project of Artistic Director Dan Bianchi.
Horror can be felt lurking within the walls of the church as the audience listens from the pews to actors reading from Poe's macabre tales. Given the presentation format, the onus is upon the actors so create a haunting ambience, and all are highly skilled in being able to hypnotize the audience and create suspense. Each performance of the festival presents four works, with the same four actors portraying the various characters. Standout performances by R. Patrick Alberty and Cory Boughton were particularly thrilling; the radio play format of the show proved no hindrance to their ability to embody their characters with intense physical and facial expressions that had me absolutely transfixed.
The beautifully crafted work is directed by Frank Zilinyi and R. Patrick Alberty, who pull together Poe's words with shrewd lighting, music, and sound effect choices delivered with impeccable timing by astute sound engineer Bryce Anders. The shadows and flickering candle light combine with dramatic voices and performances to build exquisite tension. You will be enthralled and left breathless, unable to shake the intensity of the ghostly sensations long after the last candle has burned down to its wick.