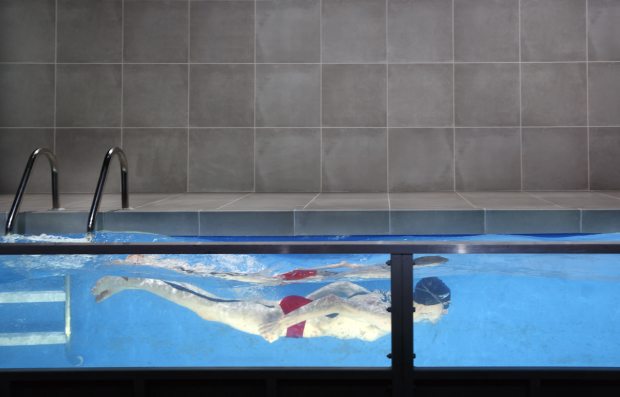 It's said that winning isn't everything; but what happens if it is? This is one of the questions Lucas Hnath poses in Red Speedo, onstage now at the New York Theatre Workshop for its New York City debut. The play opens on the eve of the Olympic swim trials -- mere minutes that will make the difference between two lives for our protagonist, Ray. Success means potential Olympic glory, it means a six figure endorsement deal from Speedo. Failure means giving up the Olympic Dream, it means facing the world with scarcely a high school diploma and no employable skills, it means sleeping in his car.
At the play's open, Ray (Alex Breaux) swims a lap and surfaces only to find himself caught - literally - between his long time coach (the cool-headed Peter Jay Fernandez) and his brother cum manager (played with an aggressive, Bradley Cooper-esque panache by Lucas Caleb Rooney) who exasperatedly delivers a laundry list of Ray's best qualities in order to convince the coach to cover up a nasty discovery that could railroad Ray's (and his, and the coach's) hopes. A cooler of steroids has been found in the swim club's communal refrigerator; it quickly comes out that the steroids weren't teammate Tad's, they were Ray's, and he can't ace the trials -- can't seal the endorsement deal -- without figuring out a way to get his hands on some more.  Enter Lydia (played with weary relatability by Zoë Winters), Ray's ex-girlfriend/ex-physical therapist, who first turned him onto steroids and is his last-ditch effort to get his hands on a new supply.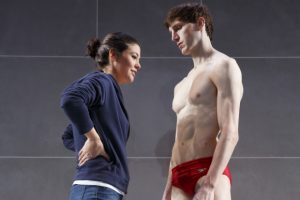 I'll back up a pace, only to mention that, thanks to Riccardo Hernandez's ingenious and sleek set design, there is indeed a full length pool in between the stage and the seats, appropriately tiered bleacher style. Ray, who gets into the pool several times during the course of the play, spends the duration in naught but the titular red speedo. In being granted such open access to every sinew of his body (and to Alex Breaux's credit, he does carry the triangular build of a swimmer), it's hard not to partake in the same objectification that Hnath suggests we question in the play. Ray is a piece of meat, a "swimming machine." He has become a potential cash cow, and a win for him means win for all involved, no matter how morally dubious the path to victory.
Hnath is a vital force in today's theater scene, in part because of his commitment to experimenting with language. In Red Speedo, the players deliver their lines in staccato bursts as if they are, dare I say it, gasping for breath. Full sentences are few and far between. Unfortunately, sometimes it feels like the play is built upon unfinished sentences in more than just styling. For all of its intellect and careful, heartfelt acting, Red Speedo tries to tackle so much, the plot becomes convoluted. There's a hint at abuse in his the brothers' impoverished past, and class inequality is touched upon but then left to float away. Furthermore, Ray is endearingly dense, which Hnath and Breaux milk for maximum comic effect. His seeming inability to comprehend and control the world around him is a major factor -- both comically and critically -- in the play, so when it comes time to rally behind him out of the water, following and believing in his train of thought, it's tough to do so.
Though the world of the Olympic athlete is something most of us only run into every four years on NBC, Hnath brings it close to home for his audiences, using his poolside dramedy as a springboard to talk about much larger, systematic conundrums of the American experience, reframing a classic adage with prescient urgency; in 2016, it's not as simple as winning or losing -- it's how you're able to play the game.