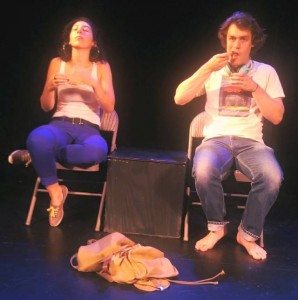 The spilled beer and strewn popcorn on the floors of the Tank might not lead audiences coming to see Rule of 7x7 to expect a sophisticated production. The show I attended at 9:30 pm on a Monday night felt like the pre-game to an after party. However, between my two PBRs and half a brown paper bag of popcorn, I came to enjoy the short plays, which were put together with a mere five hours of rehearsal and less than hour of tech.
Rule of 7x7, which occurs every other month, embraces a simple motto: 7 playwrights, 7 rules, 7 new plays (each about 10 minutes long). Rules consist of including words like Jamboree and The Hamptons, adding the action of taking pills and incorporating the repetition of a single word seven times. The rules lend themselves mostly to comedy and the 1 hour 45 minute run of the production isn't short on laughs.
While all the plays presented unique voices and quirky and imaginative stories, some particularly stood out. Privacy by Matt Barbot about two roommates whose lives change course after one incident was the directorial achievement of the night. Sanaz Ghajar paced the action seamlessly, with clever and precise stagecraft. Black People are Dangerous by Donaldo Prescod about a black serial killer on the loose featured a flawless performance by the playwright. Hard Times for Real Hamptonites by Dan McCabe about Hampton locals included a clear arc that took the story to a satisfying and surprising end. In the play, the character of Craig, played by Alex Haynes, earned the moment of the night in a hilarious rendition of a self-composed rap song.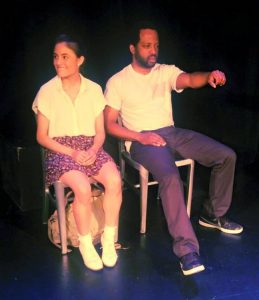 While most plays boasted of well-executed jokes and punch lines, character development was impressively handled in Brett Epstein's Now & Then: The Male Version. The play encapsulated the magic of theatre in the intimate setting of the Tank. As the audience witnessed four friends reminisce, laugh, tease and even fight through the course of ten minutes, a story that spans decades was told – all with a couple of lighting and sound cues and some really terrific acting by the ensemble (Brett Epstein, Zac Moon, Greg Engbrecht, and Alex Mandell). Epstein, who also produces the series, programmed the plays in excellent order, opting for the most human and least gimmicky work at the end.
Each of the plays could have benefited from more rehearsal. Sometimes, the actors focused more on performing rather than reacting to their scene partners. The relationships between characters didn't always resonate. The stars of the night were definitely the playwrights, each of whom penned stories that ranged from funny to thought-provoking to moving to downright wacky. If you haven't made your way to check out the series yet, you should. There's another part of the series' motto that might just help give you that last push: your ticket comes with a free beer.