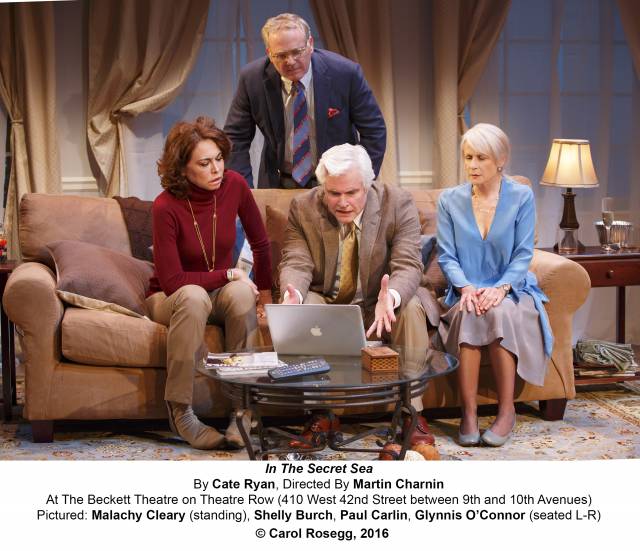 In the Secret Sea, now playing at Theatre Row, is centered around a sensitive decision: whether or not to abort a fetus suffering from an incurable degenerative disease. Needless to say it stirred up the emotions and moral opinions of every audience member watching.
The title of Cate Ryan's brilliant and captivating script comes from the idea that a woman's womb is like a secret sea, and this interplays masterfully with the concepts and moral issues that are raised. We find ourselves a fly-on-the-wall in the lavish home of Gil and Joyce Osborne (played by Paul Carlin and Glynnis O'Connor) who live their safe and undisturbed upper-crust life in an upscale suburb of Connecticut.  Their son, Kenny, reaches out to his parents for guidance and help, bringing with him news of his wife's complicated pregnancy, but to his chagrin he finds he's merely placed between a mother who refuses to have her well-manicured world disturbed, and a father whose emotions rule his thinking. Gil and Joyce's facade of insincere pleasantries - clearly their modus operandi - soon turn into full-blown disfunction and an unbalanced cocktail of opinions and emotions. With the arrival of the in-laws, Jack and Audrey (played by theater and TV veterans Malachy Cleary and Shelly Burch), more judgement, blame, hurt, and anger ensue, along with the breaking down of walls and masks between the grandparents-to-be. The majority of the play takes place on Easter Sunday - with, which its associations of re-birth and hope provides ironic, yet fitting backdrop to the story.
The stand out performance of the evening was provided by the father-to-be of the unborn child, played confidently by Adam Petherbridge. His horror and vexation were evident from the moment he entered the stage, even before the audience discovered the cause. An actor with innate physicality, he was thoroughly intriguing to watch.
At times shocking, but always engaging, In the Secret Sea will leave you mulling its thought-provoking questions long after the last curtain call.