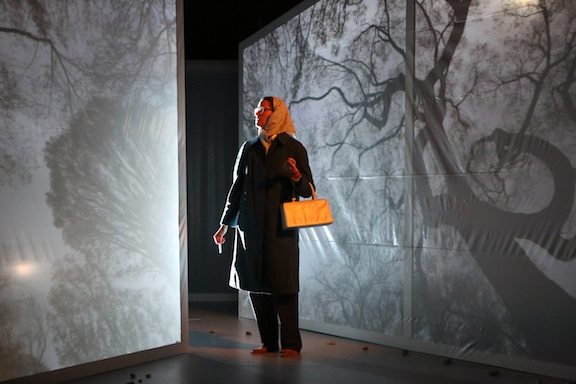 With poetic dialogue and powerful imagery, playwright Catherine Filloux in her new play Selma '65 has written a beautiful solo vehicle for actress Marietta Hedges. Based in part on the true events surrounding the civil rights movement and the Selma Voting March of 1965, Selma '65 is about two individuals on the opposite sides of the civil rights movement: Viola Liuzzo, a white civil rights activist, and Tommy Rowe, a paid informant for the FBI who infiltrated the Ku Klux Klan. Viola Liuzzo, a local activist in Detroit, traveled to Alabama to help with the historic march from Selma to Montgomery. She was inspired by Martin Luther King's speech after the earlier Bloody Sunday incident calling for all people of all faiths to come and help. Her job was to safely transport marchers and volunteers to and from travel destinations using her car, a 1963 Oldsmobile. On March 25, 1965, having finished shuttling people after another successful march, her car was pursued by four Klansmen, including Tommy Rowe, and she was gunned down, shot in the head. Her death prompted cover ups and slander of her character as well as her family, as the FBI and government scrambled to divert attention away from the fact that one of the four KKK members was Tommy Rowe. Mr. Rowe testified against the other Klan members at the murder trial and went into witness protection.
Showing us small ordinary details of these two people's lives, Ms. Filloux paints intimate portraits that reveal fragile psyches and a deep desire to be a part of something greater. Ms. Filloux's characters converse with family members and one of the most touching scenes is Tommy Rowe attempting to connect with his daughter. Mr. Rowe's interactions at the Senate hearings after the murder are riveting as the government struggles to spin the story to their advantage. Switching quickly between these two characters, the play continually offers glimpses into one moment, from both Viola Liuzzo and Tommy Rowe's point of view.
Ms. Hedges bears a striking resemblance to Viola Liuzzo and gives a multi-layered performance as a housewife and mother of five, who finds a deep calling to change the world. But it is in her portrayal of Tommy Rowe that Ms. Hedges shows us her acting chops. Her complexion changes into a ruddy mottled face of man with confusion and rage bubbling below the surface. Despite being on the wrong side of the movement, Tommy Rowe is a sympathetic character in Ms. Hedges' portrayal.
Director Eleanor Holdridge understands the need for texture in a one person play and she deftly stages Selma '65 to instantly give the audience a sense of place, whether it be in a car, roadside phone booth or the Senate. Sound design by Tim Schellenbaum, music by composer Jim Hedges and set/projection design by Kris Stone create the emotional atmosphere of the South on the brink of change and fluidly support the play's transitions.
Selma '65 continues its run at La MaMa through October 12.  For more information and tickets visit https://lamama.org/selma65/