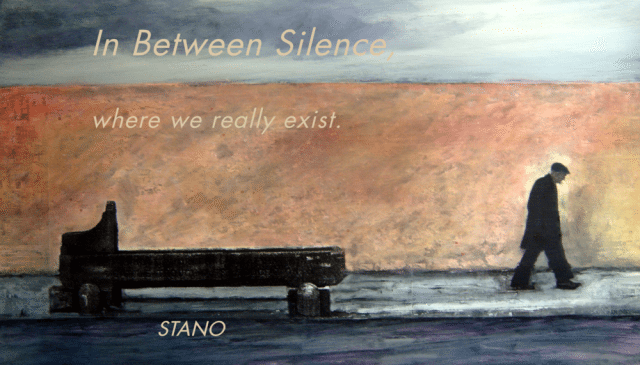 There are myriad ways to tell stories, but a voice in the dark has a proximate visceral effect. Listening becomes heightened while the eyes follow the trace of - in this case - intimate recollections including stories passed on through networks of blood and empathy. In Between Silence, where we really exist is a collection of true stories recorded by chiefly Irish writers, produced by Irish composer and one-time Dublin punk scenester Stano to music of his own making.
In Where it all Happened, harmonicist Brian Palm tells an intriguing tale of two Native Americans back from the Korean War. "If you give an Indian a gift they have to give you something better." Where We Are Now has novelist and poet Dermot Bolger talking directly to the wife he lost only a few years ago. There is a calmness as his intonation rides Stano's notes. In The Preacher, new novelist Vanessa Ronan puts forth a dilemma in a dry hot place "where prairie kisses sky". Hers is an ancestral tale of an afflicted chap in the pull of quicksand.
Poet Theo Dorgan's Kilmainham Gaol, Dublin, Easter 1991 recalls the pathos, wit and stubbornness in marking an Easter Rising anniversary. The works of Matthew Ralli and Tony Curtis, Jim Roche and The Dreaming respectively, link Australia with recognition for two distinct individuals. Anne Enright describes a Dublin seaside town, Portrane, the plight of a woman put into an asylum for speaking out about a pervert priest and a field of dead thousands with only a single headstone.
New York author Dennis Driscoll provides welcome light relief with Bicentennial Year, about a misguided Hudson swimmer missing clothes and rationale.
In The Bus, Roddy Doyle's seafront walk with his 90-year-old mother elicits memories of his passed-on dad. At the same time, he helps an old fella over a wall and onto the bus. Doyle is a great orator who can detect and project those magical moments in ordinary life.
The Thread by Denise Dunphy depicts the life and loss of her brother. "We had this bond he and I. It was like this thread that linked us together." Her delivery is sheer; the pain of loss so discernible that it reminds us that the remembered dead routinely lodge with the living.
Stano's images are minimal. There is no artifice here and barely any light. His music is deliberately under-produced and determined to match the various spoken narratives without disturbance. It drifts in, haunts and underscores. Cloaked in darkness, In Between Silence is well worth the listen.