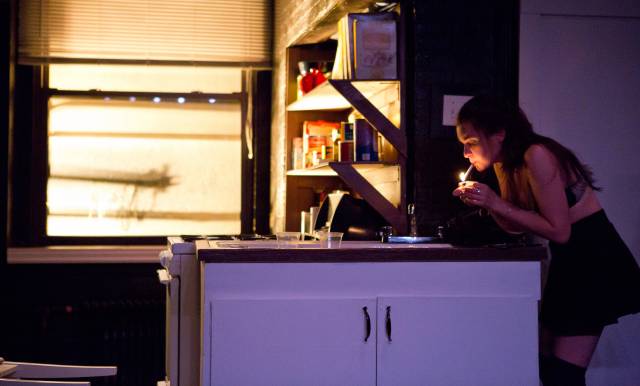 When there is chemistry between two people, they sometimes create a little smoke. In the titillating one-act, two-person play Smoke by Kim Davies, the heat generated by the characters gets so intense, you wonder if they're going to get burned.
At a house party in Harlem, we meet John (Stephen Stout) smoking casually, alone in the kitchen. Simple enough. Then Julie (Madeleine Bundy) walks in and tectonic plates shift. She recognizes John; he works for her father, a successful artist. She is sorry for interrupting him, but asks for a cigarette. There's some awkwardness at seeing each other; this is not just any house party. It is soon revealed that they are at a BDSM sex party and Julie is the newbie. What follows is an erotic tug-of-war, where each pushes and tests the other's limits.
Stout and Bundy sizzle as a pair of strangers who aren't quite sure what to make of the other. They initially have fairly polite conversation, mostly commiserating about Julie's difficult father. Soon, the talk turns flirtatious and the sexual tension becomes palpable. John, both experienced in the world of BDSM and on his own turf being friends with the host, becomes a sort of teacher. Julie is no innocent, but her inexperience makes her ripe for tutelage. She is hesitant but intrigued by John, and her intrigue in turn draws him in.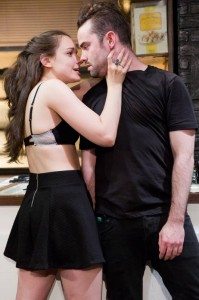 Smoke is not for the faint of heart; in fact, some might be disturbed by the manner in which John and Julie interact. Congruent to the kinky nature of the play, there are some violent "scenes," the ones played out by a dominant and submissive. Much credit is due to Jesse Geguzis, Fight Director, who facilitated a seamless and realistic physicality between the actors. The set, designed by Andrew Diaz, is small and intimate -- like a kitchen in an actual New York City apartment -- and really draws the audience in to make them feel like voyeurs in the events unfolding. Under the direction of Tom Costello, the actors make great use of the space; no corner is left unused, keeping it from getting too claustrophobic.
Prepare to leave the theater hot and bothered. Smoke will turn you on and spit you out. You'll need a cold glass of water to put out that fire.
Smoke runs through September 28 at The Flea Theater: www.theflea.org.