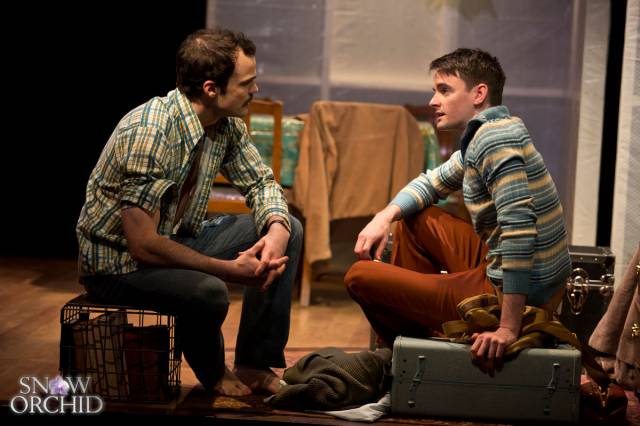 It is a great feat in theater to create a universe so full and so convincing that it sits with audience members, deep in their gut, long after they leave the theater. Such was the case in Miranda Theatre Company's Off-Broadway production of Joe Pintauro's Snow Orchid, directed by Valentina Fratti.
Snow Orchid tells the story of an Italian-American family living in Brooklyn in the 1960s, attempting to make sense of themselves and their relationships in the immediate wake of the patriarch's return from a mental health facility. In the year plus since her husband was sent away for treatment for manic depressive episodes, Filumena, the aging matriarch of the Lazarra clan, has retreated into dreams of her native land of Sicily and prayers to Saint Anthony. Rarely willing to even attempt English, she is cripplingly agoraphobic, barely able to leave her room, and her condition, only glancingly addressed, is punctuated by an obsessive, pathological reliance on her firstborn child, Sebbie, and hatred of her overly Americanized younger son, Blaise.
Pintauro weaves an intricate snapshot of a family at once completely unbelievable and yet completely convincing, run of the mill and yet deeply, seemingly inexorably flawed. With its frequent use of biblical symbols and metaphorical language, at times Snow Orchid wades into heavy-handedness, or just plain heaviness. But overall, the play conveys a largeness, an almost mythic structure, which manages not to detract from but rather supplement the almost painful fullness of the characters, all of whom approximate reality even in their smallest physicalities, from a balled fist to crossed arms.
Stephen Plunkett plays Sebbie, the eldest son, with a remarkable rage he manages to coil so tightly as to make himself appear on stage as dangerous as a wounded viper, painfully aware of and yet deeply afraid of the capacities of his own brain for hatred, anger, and ultimately, like his father before him, violence.  Perhaps the most interesting of all the characters is Blaise, resented by his mother and brother for having escaped the brunt of the father's temper, but wary of fully accepting his father's affection and sudden paternal guidance. David McElwee portrays Blaise with a masterful subtly; he is the placator of the family, still just a kid, but forced into a premature adulthood because of the demands of his surroundings.
As Rocco and Filumena, Angelina Fiordellisi and Robert Cuccioli are both electric and heartbreaking, convincing products of a different time. Mirror images of mental health, they embody conflicting ideas of love, forgiveness, and nostalgia, battling desires to stay rooted in an Italian past and an American future, unsure whether they are fated to support or destroy each other.
The physicality of the play, perhaps the most carefully constructed layer in creating the tense, frightful atmosphere where the violation of personal space is a constant threat, is highlighted by a deft use of space (set design by Patrick Rizzotti) and careful lighting design (by Travis McHale), aspects which, with their flattening of a multi-story brownstone into a tightly limited stage, hint at surreality while ratcheting up the stomach-twisting feeling of claustrophobia and fear.
Through the combination of all of these factors, Pintauro's theatrical tragedy rings of modern drama of a bygone first order in which an American family - in its endless variety - begins a backslide into seemingly inexorable doom, leaving you wondering, beseeching: will they, can they be saved?