Review: Songs of the Harlem River: Forgotten One-Acts from the Harlem Renaissance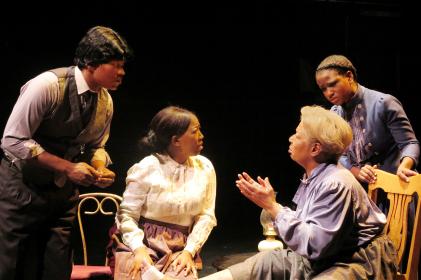 Writer, philosopher and teacher Alain LeRoy Locke, a high-profile affiliate of the Harlem Renaissance, said of it in 1926 that, "Negro life is seizing its first chance for group expression and self-determination."  He wasn't wrong.  During the interwar period, the Harlem Renaissance produced a bounty of literature, art, music and theater that realistically depicted the daily lives, struggles and creativity of black America.  In Songs of the Harlem River, part of Theater for the New City's 2015 Dream Up Festival (Aug 30th - Sept 20th), The Xoregos Performing Company (for whom Shela Xoregos directs and choreographs) have plucked five forgotten one-act plays and four poems from the aforementioned era, believed to have never been professionally produced outside of community theater until now.
In The Girl From Bama by Ralf M. Coleman (1929), Southern girl Della (Yohanna Florentino) gets herself into romantic trouble, caught between numbers 'banker' Jazz Barrett (Mike Jones) and her pining old flame Dr Lee (Jak Watson) from back home.  As the story progresses, bad boy Barrett plots to gain the upper hand.
In The Deacon's Awakening by Willis Richardson (1920), matriarch Martha (Michele Cannon) does some plotting of her own behind the backs of her husband David (Andrew R. Cooksey) and his equally disapproving associate Sol (Michael A. Jones) by taking advantage of the right to vote in the wake of the recent passing of the Nineteenth Amendment.
Blue-Eyed Black Boy by Georgia Douglas Johnson (ca. 1930) was written as part of the 'lynching' plays genre, intended to influence Congress into passing anti-lynching legislation. The sound of a crowd baying for the blood of an innocent man after dragging him out of jail is seen through the eyes of his distraught mother Pauline (Carol Carter).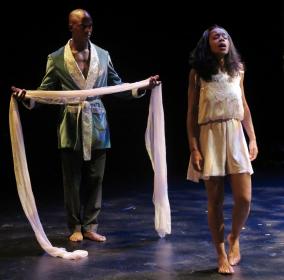 Exit, An Illusion by Marita Bonner (1927) is a surreal and curious tale of a dancing angel of death posing as a romantic date. Given the time in which it was written, the dialogue is surprisingly loose.
In The Starter by Eulalie Spence (1927), T. J. (Mike Jones) and Georgia (Jessie Jordan) share a park bench in an age-old tale of love, aspiration, finance and social standing.
A collection of poems, Odyssey of Big Boy by Sterling A. Brown, Mother to Son and I, Too by Langston Hughes and Words! Words! by Jessie Fauset, allows the impressive ensemble cast to relish in language and stillness.
The plays present a variety of standards; some are more entertaining than others but none are uninteresting. Songs of the Harlem River not only provides the audience with a window to a time and place that has contributed so much to art and modern America, but it shines a light on a notable number of women writers as well as the legislation, social interactions, hardships, good times and indeed humor born of the Harlem Renaissance era.