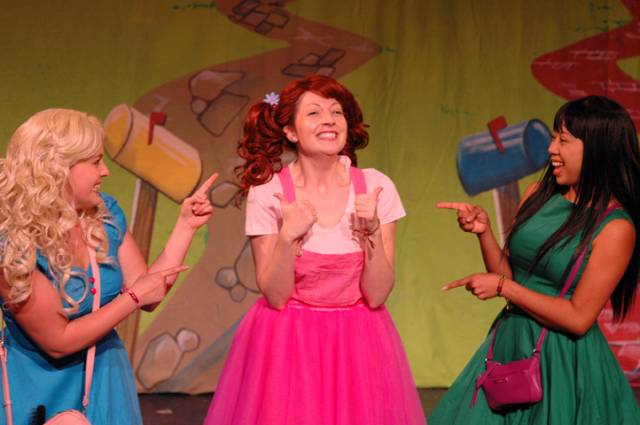 For ten years, the StinkyKids company has aimed to craft products that not only entertain but also edify children with important life lessons, building self-esteem and maturity in the process. The StinkyKids franchise includes books, dolls, and other toys and includes the tagline, "little stinkers who make right choices."
The StinkyKids company first brought us StinkyKids, The Musical in 2012 and it has been performed annually ever since, each time for a sold-out run. In its first run, it won the "Best Family Show" award from the Off Broadway Alliance. This year sees the production brought to the Theater at Blessed Sacrament, part of the Vital Theatre Company. This cozy subterranean theater nevertheless feels airy and spacious with the high ceilings of the space and the sparse set of the show.
I saw the show with my four- and five-year-old children, and the room was, as usual, filled to capacity. The upbeat songs, rapid-fire dialogue, and bright costumes easily held the children's attention. The cast is enthusiastic and the songs are memorable. The show is suitable for children of all ages and is driven mostly by the story, rather than flashy production gimmicks. Even the dancing is minimal. The time is about evenly split between songs and dialogue.
The play deals with important themes for children including peer pressure, social rivalry, and the temptation not to tell parents when you make a mistake. These are themes that all kids will identify with, but the subject matter is handled lightly and positively. The show also broaches the topic of the shame kids feel when disappointing their parents. This is the only moment, and it is fleeting, that feels emotionally heavy. Parents will appreciate how the conflicts in the show are resolved with hugs and songs, rather than a patronizing after-school special trope. The most grown-up moment in the show is the use of the word "stupid," twice, but in both instances, the word is condemned as the "s word" by the other children.
An especially nice touch is that, after show ends, the audience is led through a receiving line with the cast on their way to the exit. Children are able to speak to and take pictures with their favorite cast member. Of course, merchandise is marketed to children in this same line, but not obnoxiously so and the items are modest.
StinkyKids, The Musical is not as entertaining for adults as some other kids' shows I've seen, but it combines wholesome charm with earnest life lessons in a way that resonates naturally with kids. Not unlike children themselves, the show is more emotionally sophisticated than it seems. My five-year-old was able to talk me through the major conflict of the show and the moral of the story, but he also had a great time. Both of my children asked when we could see the show again!