Interview: Marcy Heisler and Zina Goldrich on Their Junie B. Jones Musical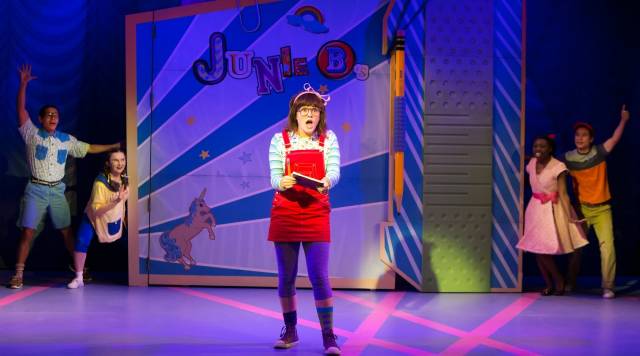 Junie B.'s Essential Survival Guide to School is a bright and colorful musical for young kids, with plenty of jokes for the grownups, too. Based on the book of the same name by the great Barbara Park, the musical has the title character dispensing advice to youngsters who may be fearful about starting school. She is an expert, after all, having just completed first grade. I found that the presentation, vocabulary, and pace is good for kids even older than that, up to 9 or 10, but youngsters will be entertained as well, even if they don't quite follow all that is going on. The songs are silly enough to delight the kids and catchy enough that even the adults will be humming them for days. I spoke with Marcy Heisler (book/lyrics) and Zina Goldrich (music) about the show, which plays at the Lucille Lortel Theatre through August 19.
Of all the books in the Junie B. Jones series, why did you choose this one to turn into a musical?
Marcy Heisler: This was the one that Theatreworks USA chose…it was an especially interesting choice, as it really is more of a scrapbook and not narrative in nature. That allowed us a wide runway to take the character we know and love and try some new directions.
One of the unique aspects of the stage version of the story is that Junie's classmates take it upon themselves to contribute information for the book, opening up important lessons for young kids. What led you to this departure from the book?
MH: Having done theatre at such a young age in Chicago, I was introduced to both the joy and challenges present in collaboration. Collaboration and friendship are both very large themes in the family theatre work that Zina and I write. Great ideas are wonderful to have — but sometimes implementation of those ideas takes a village, and sometimes growth and true potential is only realized through team effort. I love the idea of introducing that so young - I have found it's a lesson that serves us well throughout life.
Zina Goldrich: There's nothing like working on a project with your friends. I think Marcy and I share that in common to this very day as we write our musicals.
Sadly, Barbara Park, the author of the Junie B. series, died back in 2013. Had you started production on this play at that time and was she aware? Do you think she would approve of your vision for this story?
MH: While Barbara passed away before we began this project, I had consulted with her extensively on the first play, as Junie B was such a specific voice. I wanted to make sure that lyrically I was true to her patterns and rhythms and thought processes. Having this opportunity to create a new story, I hearkened back to many of our conversations. I'm very grateful we had the time together and she was so generous in her trust. This character very much lives in my heart, and it made me very happy when Barbara's husband and agents and editors gave their blessing on this latest work. So while no one will ever replicate Barbara's wonderfully original voice, I certainly did and do everything I could to honor and celebrate it. She was a generous and wonderful and unique lady, and we love being a small part of Junie B.'s world.
ZG: That was a big loss for everyone. Barbara had such a unique style. We hope we have stayed true to her characters. We really love each and every one of them. She was very kind when we worked on the first Junie B., so we hope a little piece of her was still with us as we wrote the new one.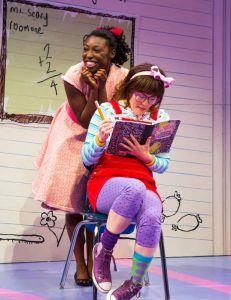 You two wrote an award-winning Junie B. show back in 2004 and the series has inspired other stage productions as well. What made you come back to Junie B. over ten years later?
MH: We were asked! But seriously — once Junie B enters your heart she never leaves you. And something very special about this character and her particular adventures resonates continually, and gives great opportunity for song and story. We are all in first grade sometimes, even as adults. Junie B's quirky, honest, heart-on-sleeve, whip smart take on things is something people of all ages enjoy. I think both adults and children appreciate how real Junie B's triumphs and struggles are.
ZG: It took me less than a minute to say yes to a second Junie B. musical, because we loved working on the first one so much.
Many artists that work on children's books and shows say that their work is inspired by specific experiences they had in childhood. What about your childhood(s) comes out in this show?
MH: There's a lyric in the original Junie B musical I always come back to — "In my insides. there's an avalanche of feeling...in my head there is a pile of dreams come true…" — I have to admit I was little like that back in the day too. Like Junie B I too wore an eyepatch, struggled with glasses, got great pleasure from huge desserts, sometimes struggled to be heard — and wrote and wrote in both top secret personal journals and more public ones too. I had a very open relationship with my parents and sought their counsel, and I was lucky to be close to my grandparents as well. Tickle is probably more well behaved than my dog Twinky, and I did not to have to contend with a baby Ollie. In truth, while I have some Junie B-isms...I actually was the Baby Ollie, and my sister Eileen was the Junie B! But I think we all see ourselves in the Jones family, one way or another.
After we saw the show, I talked to my kids about a few things. What lessons do you think parents can talk to their kids about before or after seeing this show?
MH: While I am not a parent myself, I am an Auntie, and also have the blessing of being close to a great many neighborhood kids here in Greenwich Village. Time and time again I have sat down at the coffee shop with kids who have "acted out" and don't know exactly why. I thought this particular show had a real opportunity to shine a light on that - on the real growing pains that first graders face. It's such a specifically pivotal time - when feelings overflow, but young ones don't have the full vocabulary to articulate them. We all sometimes feel we have a stubborn bull living in our stomach, and I am thrilled that parents and kids are talking about this. We're hoping a lot of themes are discussed post show - having a trusted adult to talk to, apologizing when you hurt someone's feelings, realizing that you can never know everything there is to know…even after 13th, 14th and 17th grade. 🙂
ZG: I have two kids, and since they NEVER misbehaved… ha ha. Well, as a parent I wanted to help my kids learn how to deal with internal struggle. It's one of the most vital life skills you can acquire. It's important to know that even when you make a mistake, or hurt someone's feelings, you are still a good person, and worthy of love, friendship and acceptance.
Because my family is also multi-racial, I really appreciated that Junie, her mother, and her father all appear to be of different racial backgrounds without making this something that had to be specifically addressed. Is this a concerted effort to normalize trans-racial families or did it just sort of happen?
MH: We cast who we felt made the best, most authentic Jones family!
ZG: Agreed. We picked the best people for the job!
Given how prolific you two are, I'm guessing you are already well into your next project. Care to share what you are working on?
MH: Thanks for asking! We are writing some new songs for an upcoming concert at Barrington Stage on Aug 28 and 29th, and also hard at work on revisions for Ever After, a new romantic comedy called Hollywood Romance, and a wonderful project with Universal Studios which we can't talk about quite yet — but many more songs coming soon.