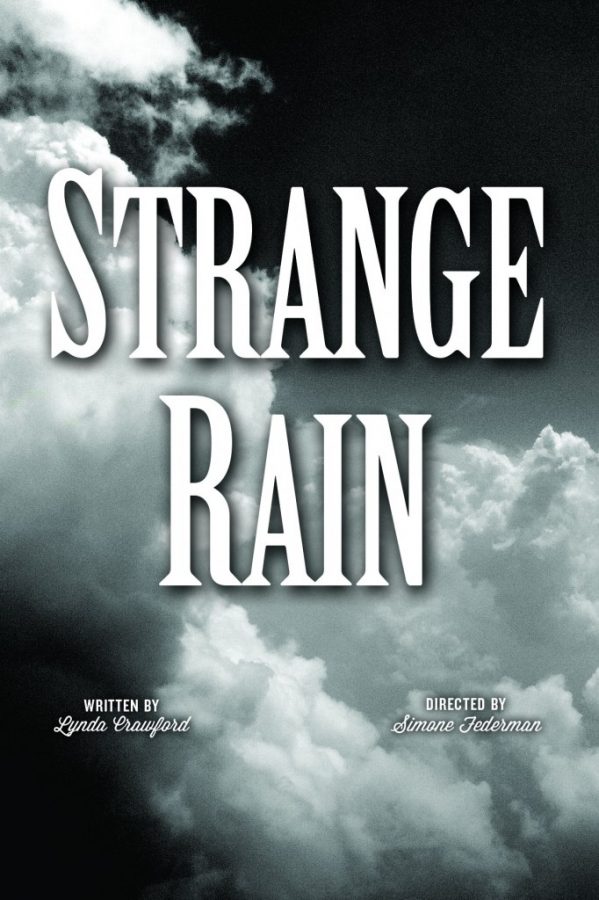 "Strange Rain", a mysterious noir, thriller, and love story, is a multifaceted roller coaster playing at the NY International Fringe Festival. The play revolves around a impossibly long streak of rain that is plaguing NYC, and who or what may be responsible. Two reporters, one disgraced (Charles Goforth as Jim) and one whose career is taking off (Kaethe Fine as Shirl), attempt to uncover the paranormal causes of the rain while they grapple with their own problematic relationship. It's a dark, philosophical journey through time and space that hits on all cylinders.
Director Simone Federman and writer Lynda Crawford have crafted an eerie, dreary world, in which the inhabitants have little hope of making changes and seem destined to do their best to react to misfortune rather than tackle it. Jim, Shirl's former lover, an alcoholic and journalist who was caught making up stories, wants to change all that. With the help of two lesbian psychics and some unorthodox scientists, he hopes to prove that the rain is the result of human or alien intervention, despite all coverup efforts that stand in the way. "Strange Rain" is like an episode of the classic television series "The Twilight Zone", effortlessly transporting the audience into a bizarre world that while sharing a few similarities, bares no true resemblance to our own.
The play has its moments of hilarity as well, like when it's asked aloud, "did you ever think it was suspicious, all this rain?" in an intense bout of absurdity. "Strange Rain" embraces the concept of "show don't tell." When the characters discuss previous events, we're transported to them via a variety of techniques including projections and storytelling with corresponding action. This is aided by the incredible, ominous musical accompaniment and focused mood lighting and audio work that paints a vivid tonal image of omnipresent thunder, lightning, and of course rain.
"Strange Rain" ends on a hopeful note, although, as we are told, "Mother Nature is indifferent." There are two more shows before closing, August 19th at 7PM and August 22nd at 8:30PM, both at the Lynn Redgrave Theater (45 Bleecker Street).
For the full listing, go here: https://stagebuddy.com/listingdetail.php?lid=14144