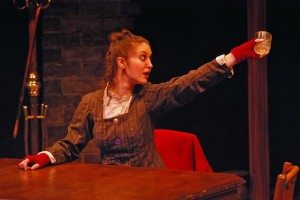 London during 1888 was victim to the reign of the infamous serial killer Jack the Ripper - notorious for repeatedly stabbing prostitutes in dark alleyways and for being unidentified even to this day. "The Unfortunates" is a look into the life of Mary Jane Kelly - a sweet, red-headed Irish girl trying to make ends meet in the country of England by selling her body for a cheap buck - also known as the fifth and final victim of Jack the Ripper. On a cold, dark night Mary Jane finds herself in an empty bar with one other person whom she describes as "classy looking" but rather mute for the whole time they're in each other's company. She does all the talking and tells him her story of poverty, lust and encounter with murder as one of her good friends had recently been found slashed up multiple times and killed by Jack the Ripper in an alleyway. As she talks to this silent acquaintance, she slips in a few desperate attempts at getting him to buy her for the night, but he remains quiet and Mary Jane continues telling him anything that comes to mind. Although The Unfortunates doesn't tell of Mary Jane's murder that same night, it is a historical fact that the friendly, well-liked Mary Jane was indeed killed shortly after her one-sided conversation with this mysterious stranger. So was her encounter in the pub just a mere innocent exchange with a shy fellow, or was it the unfortunate cause leading to her vicious, violent death a few hours later?
The Unfortunates is a humorous and enjoyable show despite the dark reality behind it's basis. Diana Cherkas plays Mary Jane Kelly wonderfully as she theatrically perfected the sorrow, distress and few moments of happiness that a person of the 'unfortunates' class holds. But she also plays the roles of many others which makes her performance as great as it was. She captures the trashy drunkenness of one of her fellow prostitutes who's missing her front two teeth and makes up pity stories to get men to sleep with her. She captures the classy, sophisticated - and quite comical - aura of one of her clients who's known around the town for his high position yet asks Mary Jane to engage in the act of riding him around like a clydesdale while wearing old farm boots. Cherkas' exaggerated facial expressions and easy transitions between two very different characters made The Unfortunates feel as if it weren't a one-woman show. It is a great watch for anyone who can appreciate a really well done impersonation.
The Unfortunates deals with a much bigger picture than the simple glance into the life of a 19th century prostitute, it also shows just how thin of a line separates life and death. One moment Mary Jane Kelly is energetically talking about her personal memories, adventures and the pain she felt when she saw her friend's murdered body - and the next moment she is just another victim. The Unfortunates not only leaves it's audience thinking about the sensitivity of life but also leaves it's audience curious and hungry to know who the faceless man Kelly spends her last few hours with.