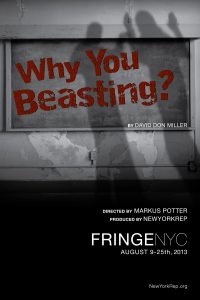 "Why You Beasting?" is definitely one of the most enjoyable shows in this year's New York International Fringe Festival. Mr. Donovan (Shane Zeigler) steps into a high school practically begging to be hired, little does he know the degree of difficulty it will take to do even the simplest of things such as getting his class' attendance down. His students not only look down on him and the school system, but also look at each other as enemies as well.
One day three girls start fighting and one gets rushed to the hospital due to skull damage, another day drug dealing teens interrupt the class and two students get stabbed; these are just a few of the insane things that go down in this action-packed play. In an effort to get sent to the "rubber room" - a place where teachers who've been filed for misconduct sit, kill time and get paid while waiting to get sent to work again - Mr. Donovan starts acting reckless as well. He does this by hitting on his fellow staff members, cursing violently at his students, and letting them watch "Scarface" as classwork. Ironically, this leads to him getting closer with his students, and his attempt to get kicked out actually leads to him becoming more liked by his students.
Even "Scarface" influences the students in a positive way - how could a film about a cocaine dealer ever have a good influence on a group of kids? Somehow, "Why You Beasting?" has managed to tackle this seemingly impossible task as well. "Why You Beasting?" is highly recommended for anyone who thinks they can handle the craziness.
Appraisal for "Why You Beasting?" is coming from all over NYC -  a show based on the true story of a new teacher struggling to get through to his kids in a ghetto high school in the Bronx. Despite the scenes where the actors lash out in sudden acts of violence, cursing at one another yelling racial slurs, it was actually incredibly humorous, amusing and relatable. It brings to light the corruption in our education system, the wild students that lurk about in all of the boroughs, and the hard-working teachers that wake up everyday hoping to make a difference in these kids' lives.
Everything about this show is wonderful but the cast should definitely be noted as one of the best aspects of this play. The ensemble presented a strong vibe of unity and compatibility with each other, and seeing the actors look like they were really enjoying themselves  made it that much more enjoyable for the audience. Initially playwright David Don Miller started this story after assigning his play writing class to write one-act plays and thinking it only fair if he did the same, he probably never expected it to become one of the most popular shows in this years New York International Fringe Festival. It is a show not to be missed.