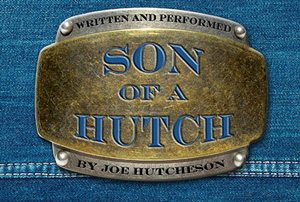 Son of a Hutch is a solo performance by Joe Hutcheson of his life's story. Growing up, he felt like the odd one out from his family. While all the males he's grown up around seem like mirror depictions of one another - playing baseball together as men or jumping off of tables as boys -  he finds himself constantly on the sideline sitting beside his Aunt, and feeling more like his mother. Although he may not know what "first base" is and calls it "first pillow in the floor," he outdoes himself in "Son of a Hutch," a play written and acted out all by Joe himself. It was very impressive because even though there were no other actors, elaborate scenery or actual props, Hutcheson's amazing storytelling and ability to grasp the full depth of other characters had me leaving as if I had just watched a far more produced show.
Joe jumps from his days as "Little Hutch" in Indian Scouts, to watching his first soap opera and wanting to be like the beautiful, fierce lady on the screen to witnessing his younger brother grow up taller, buffer and more "hutch"-like than himself, and to moving out to NYC to pursue his dreams of acting. Throughout each period of time, Joe displays personal confusion and alienation from the rest of the Hutch clan. All the other men in the Hutcheson family are very "manly": sports-loving, beer-drinking, car-fixing, tall, and athletic. Although on the outside Joe may look just like them, on the inside he is much more feminine than they are. He prefers theater, cheerleading and boys. For years he bottled up his secret and never vocally spoke about it to his family, fearing their responses, but only when he finally opens up to his Dad does he see how understanding Big Hutch really is. The whole time it was Joe himself who had been expecting a dramatic outcome and preventing himself from seeing his father in the more caring, sentimental light he's always wanted to. "Son of a Hutch" is touching, hilarious, and reassuring. It also indirectly reminds you that sometimes, it's all in your head.
The only props used were Joe himself, a little bit of background noises, a small screen clarifying which chapter of his life he's currently describing and of course, the audience's imagination. It was literally a man on a stage with a chair and no backdrop (only a curtain), but it was easy to get an image in my head of everything he was describing. It all came very naturally and effortlessly. When he talked about the baseball field, one popped up on the stage. When he imitated his Uncle Mark, his Uncle Mark was there. One second Joe played himself, gay and sweet-voiced, and then the next second he was his strict, Christ-loving mom, then his rugged, deep-voiced Dad, and then his Latina aunt making tamales in the kitchen.
Although he tries to run away from becoming a Hutch most of his life, Joe finds himself unexpectedly running into it head on - and actually becoming much happier for it. This indirectly leads to conquering the difficult task of accepting one's self wholeheartedly. The show is a light, comedic play that depicts someone who has learned to make humor out of his tragedies and confusing times, and inspires others to do the same.
By Alexis Yoo