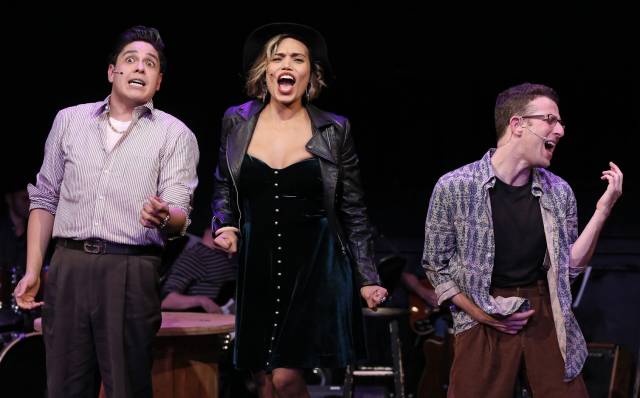 Before Jonathan Larson penned one of the greatest American musicals, Rent, he wrote a much smaller, autobiographical musical called Tick, Tick... BOOM! While nowhere near the scale and excitement of the Pulitzer Prize and Tony Award-winning Rent, Tick, Tick... BOOM! is a sweet, searching tale about artists and the sacrifices they make for their art. Now it's playing a limited engagement at The Acorn Theatre at Theatre Row directed by the Keen Company's Jonathan Silverstein.
Tick, Tick... BOOM! is set in early 1990, the week preceding Jonathan's (Nick Blaemire) 30th birthday, when a confluence of potentially life-altering, yet bittersweet events all converge on him at once. His play, Superbia, is being workshopped at the same time his agent won't return his calls; his long-term dance teacher girlfriend, Susan (Ciara Renée), begins to talk about moving out of the city; and his best friend since childhood and roommate, Michael (George Salazar), is moving himself and his brand new BMW out of their SoHo digs and into his own fancy uptown apartment. Not to mention Michael is trying to encourage Jon to take a job at his high-paying market research firm, for which he abandoned his own failed acting career.
There's a real crossroads here for Jon, who is sick of serving brunch to assholes at the diner where he works to pay the bills and not getting anyone (especially The Great Stephen Sondheim) to notice his work and get his shows produced. This workshop is his last chance to make it or he considers bowing out altogether. He is driven, but the looming presence of his 30th birthday is messing with his head, making the clock tick, tick ever louder. After all, as he muses, both his dad and Napoleon accomplished way more by 30 than he has.
The singing and performances by the three leads (particularly Renée, who shines as she rotates between Susan, Jon's agent, and another actress in the workshop) and the onstage band (led by Joey Chancey) are all top-notch. The songs are just okay, mostly forgettable, and some of the lyrics are strangely incoherent and often silly ("Sugar" is about Jon's love for Twinkies). The story, about friendship, art and sacrifice, is way more compelling.
Larson unexpectedly and tragically died of an aortic aneurysm right before Rent premiered, and to know that makes a current viewing of Tick, Tick... BOOM! feel sadly prescient. While Tick, Tick... BOOM! is much more lighthearted and way less gritty than all that, there are shades of Rent in Tick, Tick... BOOM!, as though the latter were the tick, tick to the former's BOOM! You sense the formation of something bigger and more explosive.