Review: The Tinder Scrapbooking Love Guru Victoria and The 'Hoodwink at the EstroGenius Festival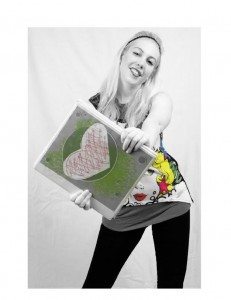 The 2014 EstroGenius Festival brings together talented, unique, and strong female voices, and two of its shows display just how bold these women can be.
First up was The Tinder Scrapbooking Love Guru Victoria, coming to us from funny woman Cat Migliaccio. In this comical and quirky 'info session', Migliaccio plays love expert Victoria, who breaks down the formula for finding your mate in a world where options are plentiful and there is no time to waste.
Appearing on stage in bright-colored 80's style clothing and accessories, Migliaccio immediately makes her vivacious personality and energy known as she addresses the audience on this crucial topic. With much interaction and encouragement, audience members feel like they are part of Victoria's process, absorbing the material like students in a class.
Victoria combines both modern-day and classic practices as she explains the formula for finding a mate to procreate with. She begins with a popular method of dating in today's world: Tinder. An application that allows users to view their options with a swipe of a screen, Tinder gets right down to business, because hey, who has the time to get to know someone deeply, nowadays? As Victoria explains, it's about making sure your date has good genes so healthy, attractive children will follow. Victoria then takes out her scrapbook, a sweet and classic method of documenting stages of a relationship, and gives the audience a peek into her recent dates -- literally. It contains a sugar packet from a coffee date; a pair of socks; and other items. She explains that each provides insight into her potential mate's personality -- e.g. a man who uses organic sugar is health-conscious -- and helps determine if there's a match!
My one suggestion to Migliaccio would be to refrain from handing out promotional materials during the show -- all good information, but a bit distracting.  All in all, though, this one-woman show achieves its goal of poking fun at the lengths many of us through to find a mate -- often taking ourselves and the process too seriously -- and at the end of the day reminds us it's about feeling good, having fun and, of course, making babies!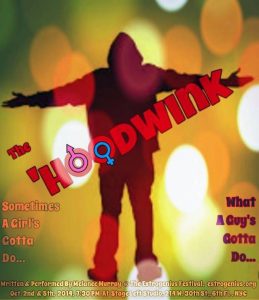 Don't let the name of the next show fool you -- The 'Hoodwink is the real deal. Written and performed by Melanee Murray, this brave and daring piece showcases both truth and talent. Murray plays Albie Davis, a single mother with sick beats and a big dream -- to be a rap superstar. Her words are powerful and thought-provoking, but there's just one problem: she doesn't have the look.
Albie struggles with the unfair reality that the rap world belongs to those who are sex symbols. After being rejected from gig after gig, while sexier girls -- with not much to say -- got the glory, Albie had enough. She creates an alter-ego "Ten-Cent" and auditions for a popular rap show in her area. While trying to impress the man in charge as well as one that she is starting to fall for, Albie loses herself in this new persona. She is gaining acceptance in the rap world, but the uneasiness of the deception starts to take a toll.
It's always interesting how the classic "stay true to you" life lesson plays out in different worlds -- this time, in one such as rap and pop culture, where image is everything. It's a nice reminder that everyone faces these challenges, no matter the industry, and that the lesson remains: you have to be you and do it your own way, no matter the obstacles.
Murray's range really shines in this piece as she brings her talents with words and music front and center while also portraying the other characters that Albie communicates with. When one person can split themselves into several personalities that interact seamlessly -- it's a masterpiece. If you're looking for something original, entertaining and moving, this is it.
For more on the EstroGenius Festival, check out: https://estrogenius.org/