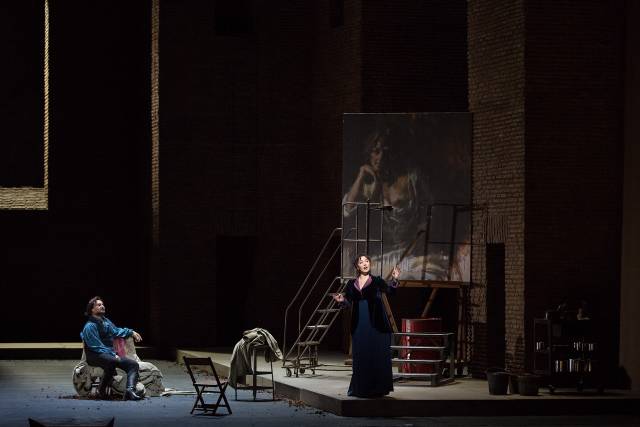 Giacomo Puccini's Tosca is a far cry from his La Bohème. With this fascinating story of the singer and the painter, librettists Giuseppe Giacosa and Luigi Illica draw upon the saga of Victorien Sardou's La Tosca for this opera about Rome in June 17, 1800. This year's Metropolitan Opera's production honors the weighty story, filled with rage, triumph, and yearning for love and beauty under God.
Tosca is full of reversals. Floria Tosca (Oksana Dyka) and Mario Cavarandossi (Roberto Aronica) reveal their love and their agony in this opera. With conductor Plácido Domingo's lead, Dyka and Aronica express such a great range of emotion. Tosca's adoration for Cavaradossi is as clear as her spite for those who intend harm. Dyka is phenomenally articulate. Each gesture and gaze from the soprano is complete and exact. Roberto Frontali as the police chief, Scarpia, also has a commanding presence on the stage.
The artistic team has decided on muted sets for the opera, creating a chilly atmosphere. Adding the children's chorus for the scene in Act I in the Church of Sant'Andrea della Valle, really rounds out the scenography, brought to the stage by set designer Richard Peduzzi and lighting designer Max Keller. Great sense is made of the vertical and horizontal space; watching the actors scale the high walls and stairs is awe inspiring. The French inspired opening to Act II, complete with harlots in billowy skirts revealing the lower leg, created by costume designer Milena Canonero, presents a bit of levity in this otherwise weighty opera. In Act II at Scarpia's rooms in the Palazzo Farnese, a bright beam of white light connects the torture room to Tosca. Tension exists in the empty space. Sitting in something like a rocking chair on the far side of the stage, Tosca is asked to contemplate the violence happening in the second room.
The spirit of revenge is alive in Tosca, and this production refuses to gloss over the brutality in the opera. Following the red, from the netting in her hair in Act I, to the blood smeared on a door in Act II to the killing at the Palazzo is a stunning journey. Dyka's voice breaks through with speech, revealing her clearest desires. When she runs from the blood and the knife, it is shocking, but the staging so delicately leads to the moment. Dyka takes center stage with surprise, and is not gleeful but resigned.
The Napoleonic glory of the story reaches a climax in Act III at dawn in the ramparts of Castel Sant'Angelo. Surrounded by soldiers with bayonets, Tosca is forced up the long set of stairs. With no other option, she throws herself over the side, and the lights go dark before we see her plummeting over the side. The woman that we were all cheering for has perished. It leaves the audience gasping, and wanting more.
Tosca is running at The Metropolitan Opera until December 1. For tickets visit: metopera.org