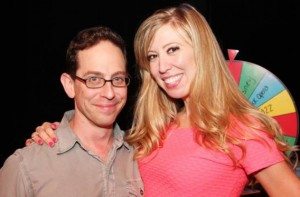 Combine Wait, Wait Don't Tell Me, a dash of cabaret and a lyricist/composer speed date that looks like the BMI writers workshop on steroids then serve it up on a platter with a side of dishy, musical theater humor and you have Tune in Time, a musical theater game show for fans and aficionados alike. This evening of fun rounds out 2014 with shows at the York Theater on December 2 and 16.
Where other theater game nights, such as LA's 16 Bars, place the actor in the spotlight, Tune in Time's competition, developed by producers Amy Engelhardt and Heather Shields, pits three teams of up-and-coming composers and lyricists against each other and the clock often with comedic results as the teams take on a variety of competitive challenges ranging from standard quiz show fare to improv style word games. The centerpiece of the evening is a creative and performance competition where teams are sequestered, in rotation, for 20 minutes each with a singular mission: compose an original song from a new musical (title suggested by the audience) in a style chosen by a spin of a wheel.
These are professionals so how hard can it be for them to compose a quick ditty? Well hold that high note, Louise! Tune in Time turns up the volume just a notch by adding the element of unfamiliarity. That's right, these folks have never collaborated before and now must make beautiful music on a deadline, then present a polished performance of their new masterpieces for adjudication. And judged they are, by three 'celebrity' auditors, from the world of theater. To date, the judge's panel has included directors, producer, comedians and even composer colleagues.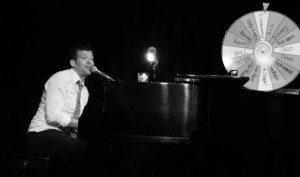 This is musical theater, cerebral fun and games pushed to 11, the whole of which is held together and propelled forward by the high-energy repartee, quick wit, and hilarious improvisatory skills of host Emily McNamara and her partners in comedy: music director Nate Buccieri and stage manager/time-keeper Sheila Head. As in most things musical theater, in-jokes abound, but never fear, if you are new to the world or even a fan without knowledge of the inner workings of compositional style, Emily, Nate and Sheila will set you at ease and bring you up to speed. They will break it all down in the most amusing way possible.
As a musical theater fan, there is so much to love about an evening at Tune in Time, not the least of which is that, with a rotating cast of competitors, you can 'tune in' time and time again and never see the same show twice. And once you get past the laughter, of which there is plenty, what becomes evident is the fact that these brand new writing partnerships are making art right in front of your eyes and ears. So head down to Tune in Time. It is a joyous, hilarious romp that has the added benefit of being an exceptional night of creative genius.
---
Tune in Time takes the stage at The York Theatre Company's home at Saint Peters (Citicorp Building, entrance on East 54th Street, just east of Lexington Avenue) Tuesday, December 2 and 16 at 7:30 p.m. For further information visit www.yorktheatre.org.