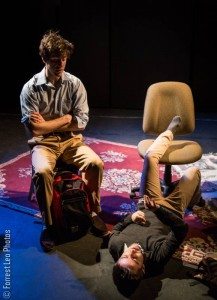 Battalion Theatre's production of Erica Lipez's The Tutors, presented by FRIGID New York at Horse Trade @ The Kraine Theater, and under Gadi Rubin's direction, relates the plight of three roommates as they edit college admission essays and tutor to pay the bills, while working to get their new social media platform, joinmetoyou, off the ground. Heidi (played by Kullan Edberg), Joe (Dan Gonon), and Toby (Gerrit Thurston) could not be more different, but are tied together through their work (which isn't always divided equally). When the outspoken, lost and damaged student Milo (Michael Greehan) comes along, he forces the three to uncover their buried issues and desires.
The chemistry between the group is electric as they banter back and forth and engage in often heated arguments. The two boys differ on their tutoring philosophies: Toby is more sensible and responsible; Joe is fun and entertaining.  The two also disagree when it comes to Milo, whom they tutor together - Joe sees Milo's manipulative side, while Toby feels sorry for the lonely kid. Heidi, too, is dealing with loneliness; she hasn't left the apartment in months, and her only "friend" is a former client, Kwan (Sean Devare), for whom she once edited an essay, and who now lives in her imagination.
While it was interesting to get a glimpse beneath the surface at what these young adults were dealing with -- struggles we can all relate to -- attempting to keep up with their issues was at times exhausting. Yet despite running about a half hour too long, this production did include the perfect ending to the complicated adolescent tale, providing each character with the clarity they needed to embark on their future.