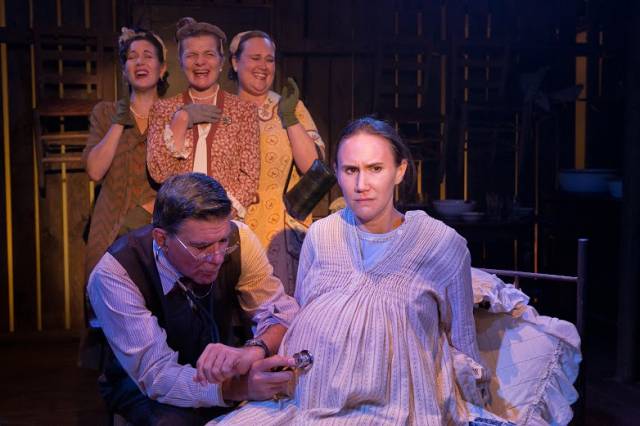 Hard times fall upon a family of farmers in 1949 Idaho. Even though the war has ended, Esther (Lynne McCollough) and her children still await the return of father Forrest from a POW camp in Japan. In the captivating family drama The Twelfth Labor, we follow this clan through one autumn day when dreams are made, secrets are revealed, and hopes are lost and gained.
The narrative is articulated in several acts, titles projected onto the top of the rustic farmhouse set (designed by Carolyn Mraz). Bookended by two sections steeped in American Realism, the inner two are more surreal and dream-like, as they occur inside the head of mentally handicapped Cleo (Erin Treadway). The first act sets up the action of the day, which begins as any other day on a farm does: early. Six-year-old Herk (Tanis Rivera Lepore) is filthy from roaming outside, searching for a missing stray cat, which Esther has killed for being a nuisance. Cruce (Jonathan Draxton), the eldest son, is complaining about the family's lack of a horse to help him with his farm work, even as it revealed that Esther, again, shot their last horse for nearly trampling Cruce to death. Teenaged Donna is sulking because she thinks everyone forgot her birthday, but swoons from the letter she receives from her sweetheart, who plans to take her to the movies that night.
Then there is eldest daughter Cleo. Sweet, loving, nurturing Cleo with the mind of a child and a peculiar manner of speech trusts anyone who is nice to her and often forgets things. She happily busies herself with breakfast preparations, cleaning the dirt off Herk, and anticipating her father's return, which she is convinced is this day. Her doting on Herk is not unusual, but it is revealed that there is more to this relationship than Cleo is being told. Then the tone shifts and the audience is inside one of Cleo's memories, spoken entirely in her strange language. She experiences something happening to her, unable to understand it. This is the dark secret that Esther and family doctor Don have been keeping for years. The yarn that Esther has spun to keep this secret buried threads deep and threatens to unravel on this particular Autumn day, when Cleo starts to speak of things she remembers in front of Donna.
The Twelfth Labor boasts performances that are nothing short of spectacular. McCollough, the instant she appears on stage, is a character straight out of Ibsen or Chekhov. Weathered and hardened by years of hard labor to make up for her husband's absence, Esther never comes off as a monster, despite her murder of at least two animals and her persistent demands on her children. She is simply trying her best as a mother and caretaker of a farm. The sacrifices she makes, both on and off the farm, are staggering.
Another standout is Treadway. As Cleo, she imparts the naïveté and childlike innocence of someone whose mind is always a little bit hazy. She very organically inhabits the physicality of a mentally disabled person without turning her into a caricature. Cleo's natural warmth and tenderness are moving and her insight into her own limitations is heartbreaking.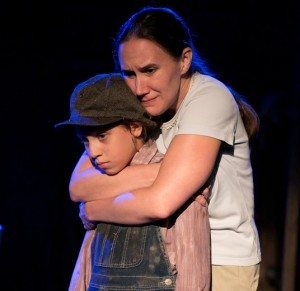 Truly all the actors are wonderful and it is to Director Matt Torney's credit that they are very believably a family on the edge of a cliff. Torney does a great job of keeping the audience guessing from which side they will come out.
The ingenuity of playwright Leegrid Stevens cannot be emphasized enough. The scenes taking place inside Cleo's mind alone are extremely inventive. Written entirely in a language full of spoonerisms, the word play is particularly clever. The words twist and morph to sound like something Cleo would say, but in addition seem to point at something deeper in the narrative.
I haven't even gotten to the Vaudeville-style dream sequence starring Abbott and Costello that is set in Oz and quotes Gone with the Wind. Not to mention the additional layer that is the allusion to the myth of Hercules. It just goes to show how creative, remarkable, and heartfelt this production, a boon to contemporary drama, truly is.
The Twelfth Labor is playing at the Gene Frankel Theatre (24 Bond Street) through October 11. Visit www.loadingdocktheatre.org for information and tickets.