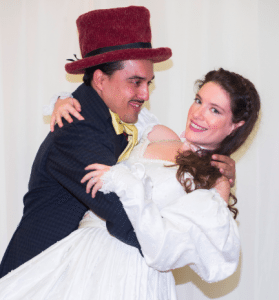 Richard Pearson Thomas' comic opera A Wake or a Wedding, now playing at the Rose Nagelberg Theater/Baruch Performing Arts Center, receives a vivacious world premiere production from Encompass New Opera Theater, a company dedicated to creating, developing and producing new musical theater, contemporary opera and dynamic revivals of works by leading American and international composers.  Directed with an eye for detail and many moments of well-crafted comedy by Artistic Director and founder Nancy Rhodes, the opera brings together beautiful singing, outrageous slapstick and romantic entanglements for an evening of farcical fun.
Set in Butte, Montana, 1898, the opera opens with a black coffin center stage. With impeccable timing, the tyrannical copper baron, Pierpont Mackerel Davenport, has unexpectedly died on the very day his daughter, Velena-Sue (Caroline Bassett Miller), is to be married. Having inherited her father's narcissism, Velena-Sue is enraged that her spotlight has been hijacked and demands that her seamstress, Ambrosia (Marie Anello), add more ornamentation to her wedding dress. The Davenport household also includes Miss O'Dell (Lindsay Rider), the housekeeper, Smelt (Adrian Rosas), the butler and the grieving widow Deirdre (Alison Davy), who lost her mind years ago, plus Jack Highstraw (Scott Lindroth), a lepidopterist and the groom to be. Not everything is as it seems, but it takes the arrival of Marcella Sorella (Joy Hermalyn), a diva with a dubious artistic past who has been hired to sing for the wedding accompanied by her "Egyptian" servant Raimondo (Eapen Leubner), for things to unravel and all to be revealed. Mr. Thomas has written a delectable denouement, each character divulging their secret and topping the previous confession, to the audience's delight.
Ms. Rhodes has assembled a good cast of singers who act convincingly -- especially Ms. Anello, who possesses a sweet, clear voice and sings with beautiful simplicity a soaring aria about traveling the world through her imagination just by touching different fabrics. Other standouts include Mr. Lindroth's heartfelt portrayal of a young man searching for beauty in nature and finding love; Ms. Miller's spoiled rich girl; and Ms. O'Dell, a truly funny actress who knows how to milk a comic bit. Joy Hermalyn gives a star performance, taking the stage and chewing the scenery with gusto, as a diva gone wild. With one phrase her voice growls in the basement and then opens to a thrilling mature soprano in the next. Her diction is impeccable and she "works" every one of her costumes, lavishly designed by Angela Huff who gives special attention to the flamboyant froufrou of clothing at the turn of the last century. Conductor Mara Waldman leads a chamber orchestra of excellent musicians playing a challenging score; Mr. Thomas's orchestrations are sublime.
For a wonderful evening of music and laughter plus a delicious slice of complimentary wedding cake after the performance, go see Encompass New Opera Theater's production A Wake or a Wedding.
---
A Wake or a Wedding starring Joy Hermalyn, Marie Anello, Alison Davy,  Eapen Leubner, Scott Lindroth, Caroline Bassett Miller, Lindsay Rider, Adrian Rosas. Directed by Nancy Rhodes, with the IIonization New Music Group, conducted by Mara Waldman, Sets by Stephen H. Carmody, plays the Baruch Performing Arts Center, (BPAC), Rose Nagelberg Theater, 55 Lexington Avenue through November 15. For tickets and further information go to https://www.encompassopera.org