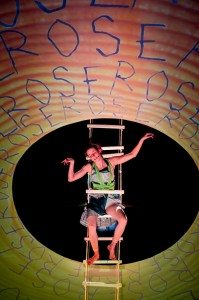 "The World is Round", Ripe Time's new show at BAM, is a giant kaleidoscope of childhood longing and fun.  Though the production itself is strong, the play lacks bite and insight.
The story follows Rose, a young girl, as she strives to cut a place for herself as a woman in the world.  This is symbolically realized by her attempts to sit atop a great mountain, tame a wild lion, and learn to sing without weeping.  These are all touching ideas, yet the piece gets mired down in its forced simplicity and exhausting repetition.  The entire piece feels very much like great children's theater: fine production value but not much to be found in the play itself.
There are many elements that are great about this show: the lighting is beautiful, and the singing voices/harmonies by the cast are quite good.  Hannah Heller in particular gives a star turn as Wille, Rose's wild cousin, who jives and gyrates with the kinetic energy of a five-year-old rock star.  But this play banks too much on the infectious fun of children: it often feels as if a huge attempt was made to make the entire play feel like one giant child's game.  Kids playing make believe is naturally endearing and fun and infectious, but at some point, the audience wants plot.
The essential problem with the piece is this: If director Rachel Dickstien hadn't included a director's note in the playbill, I'd never have known what was going on.  She describes the play as a "lean in" narrative, in which the young female protagonist asserts herself and her power against a world that wants to keep her dormant. Yet I wouldn't have known it was a "lean in" story, had she not told us, nor do I particularly see it as such.
You'll never see a play like this, but the question remains, why would you feel compelled to?  It's a fine show, but I never found myself moved, shocked, or impressed.   All in all, it's a fine production of a fairly dull show.